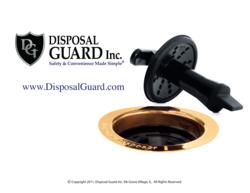 Elk Grove Village, IL (Vocus/PRWEB) March 03, 2011
Owning a garbage disposer almost guarantees at some point an object has fallen in accidentally, such as a utensil, dish rag, glass, ring, etc. and oftentimes the object isn't discovered until after the disposal is turned on.
The question many people have is how to guard the drain without losing the convenience of having a garbage disposal? There is now a tool that guards your disposal 24/7, giving you peace of mind knowing nothing will fall into disposal accidentally.
Disposal Guard Inc. introduces Dispose-It-Guard®, a multi-functional safety device that guards against garbage disposal mishaps. Dispose-It-Guard® is designed to fit snugly in any standard disposal, while allowing water to flow through easily. It protects hands from disposal blades and prevents unwanted objects from falling in disposal drain. Leaving Dispose-it-Guard® in place as a strainer will protect against items falling into disposal accidentally – dish rags, sponges, silverware, etc. – so it is safe to run disposer when needed. Other features include a scraper and safety poker, which allow one to scrape food off plates and safely push the scraps into the garbage disposal, protecting hands from disposal blades keeping them clean and safe. The poker is designed to never touch disposer blades, so it is safe to use while running garbage disposal. The scraper is made of rubber to prevent scratching any surface. This product is for anyone with a garbage disposal, regardless of age.
This is the first new product for garbage disposals since they have been made available to the public for residential use. This is the ONLY patented safety product on the market and as the only all-in-one sink stopper, strainer, safety poker & scraper, it has created a new industry standard. With over two years of product testing, Disposal Guard Inc. is confident in and stands behind Dispose-It-Guard®. In spite of being on the market a short time, customers are raving about the quality and usefulness of Dispose-It-Guard®.
Introducing a brand new product to the marketplace is easier said than done. One of the biggest challenges is making people aware something new is available, which is why Disposal Guard Inc. chose this forum to make its debut. The International Home and Housewares Show offers a great deal of exposure to a large number of companies in a short amount of time, and the Show's ability to highlight new industry products makes it ideal for a new company such as Disposal Guard Inc. to establish itself and present Dispose-It-Guard® on a large scale.
The company was created by a local Chicago man who was inspired to invent a new safety tool for garbage disposals while working with children in kitchen. In August 2004, he was teaching children to cook. He was helping peel vegetables into the sink, which had a disposal, and began using his hand and fingers to push the peels into the drain.
"I looked up and the children were watching what I was doing. It frightened me! Their hands were small enough to go all the way into the disposal! I told them to never, ever do what I did. So I went to purchase a device designed for this purpose that anyone could use, including children. I went to all the stores, large and small, and I checked the catalogs and the internet. I could not find anything, anywhere. So, I took a survey asking people what they use. To my surprise, the only three answers were my fingers, a wooden spoon or any utensil (fork, knife or spoon) that was lying in the sink. I made proto-types until I came up with a working, functional, and easy to use device, that put safety and convenience first! "Dispose-it-Guard®" was born.
Dispose-it-Guard® is 100% made in the USA by reputable vendors using high quality materials. The company prides itself on being environmentally friendly, which is reflected by the minimal use of recyclable packaging.
For more information on Disposal Guard Inc., Dispose-It-Guard®, and to order, please visit http://www.disposalguard.com.
# # #