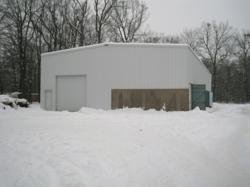 MBMI's engineers designed the snow gutter system to be implemented in conjunction with engineered roofing systems to improve the safety of metal buildings that receive heavy snow loads.
Delray Beach, FL (Vocus/PRWEB) March 03, 2011
MBMI Metal Buildings, supplier of pre-engineered metal buildings and accessories, is proud to announce its new snow gutter system. MBMI snow gutters are manufactured in 26-gauge steel and attached to a galvalume metal base. The snow gutter systems are available in over 20 colors and come with a standard 40-year paint warranty. The galvalume, a zinc-aluminum coating, is used for the base because of its premier resistance to corrosion, which enhances the durability of the snow gutters. The improved attachment system, designed by in-house engineers, provides additional strength to withstand the heavy dead and live loads of snowfall. In warmer months, snow gutters perform the functions of standard gutters, retaining and redirecting rain away from the perimeter of the structure.
Brian Fabricant, MBMI General Manager, commented, "Recent reports of collapsing roofs show the immense need for improved roofing systems that include reinforced components, such as our snow gutters." He continued by saying that, "Our (MBMI's) engineers designed the snow gutter system to be implemented in conjunction with our engineered roofing systems to improve the safety of steel buildings that receive heavy snow loads, either from the accumulation of snow and ice or a single sizeable snow storms. It's apparent that our weather patters are erratic. For this reason, it's important to implement industrial strength steel roofing systems with snow gutters along with additional purlins and girts (structural supports for the roof and walls, respectively) to safeguard against the heavy loads of snow and melted snow that turns into heavier ice."
Features of MBMI snow gutter system

Support twice the load of standard rain gutters
Manufactured in 26-gauge steel
Dually reinforced with additional fasteners and gutter straps
Available in over 20 colors with 40-year paint warranty
Corrosion resistant
Pre-engineered and pre-painted for easy installation
For information on metal buildings designed for heavy snow loads visit MBMI Metal Buildings
About MBMI Metal Buildings
MBMI Metal Buildings, offering a wide range of great customer service, is among the leaders of metal buildings companies in the USA. MBMI specializes in steel buildings, custom designs, manufacturing, and fast delivery. Using state of the art technology and first class engineers MBMI builds economical custom buildings with ease. MBMI uses only the finest materials available to the metal buildings industry. Our staff is comprised of engineers, draftsmen, detailers and building designers with over 70 years of experience and know-how to put together the highest quality metal building in the industry. Please visit http://mbmisteelbuildings.com/
# # #