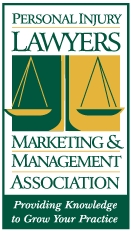 Myrtle Beach, SC (Vocus/PRWEB) March 03, 2011
PILMMA (Personal Injury Lawyers Marketing & Management Association) has officially announced Nick Nanton, CEO of Celebrity Branding Agency, as a speaker for PILMMA's Spring 2011 Legal Marketing & Management Summit, taking place April 1st and 2nd in Atlanta, Georgia. This summit will present participating attorneys with educational information pertinent to marketing their law practices, from renowned speakers and leaders in the field. PILMMA (Personal Injury Lawyers Marketing & Management Association) is the world's leading provider of marketing and management solutions to personal injury and disability attorneys.
Nanton's presentation, "How to Become a Local Celebrity and Increase Your Local Awareness", will educate attorneys about why celebrity is an essential marketing tool. Nanton, also known as "The Celebrity Lawyer", knows from personal experience how having a presence in your community can skyrocket your business and he will be haring that insight with attendees of this spring's PILMMA Summit. Nanton is also a Senior Partner at Dicks & Nanton P.A., and the former Director of Business Development at PremiereTrade LLC.
Also speaking is Scott Richardson, Marketing Director of Hurwitz Injury Law in Phoenix, AZ. He will teach attendees "How to Get 20 Referrals a Month from Body Shops (even if you have tried and failed in the past)". Participants will also have the opportunity to take part in networking events and Q & A panel discussions at the end of each day with the speakers. Cindy Speaker, President of Speaker Media & Marketing, will be presenting "No More Theory, Please, Just Show Me the Money (How to Get New Cases With Social Media)". According to previous attendees of the PILMMA Summit, this conference will be an educational experience for all lawyers and marketing directors who attend as – "PILMMA prides itself on delivering more than just theory".
To register for this event, contact Valerie Cole at Valerie(at)pilmma(dot)org or visit their website for full details and registration information. The PILMMA Gold Summit Early Registration Package, for only $697.00, ends March 17, 2011. It includes attendance and a two month free trial gold membership with PILMMA. Registration fees for members are discounted based on level of membership and non-members pay a premium of $1497.00. Details regarding the Summit and PILMMA membership can be found on the web at http://www.PILMMA.org
# # #