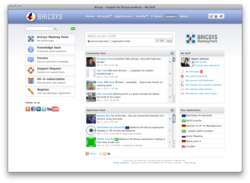 With Bricsys Meeting Point, we are providing a solution that lets application developers support their customers professionally -- without the need for them to invest in a costly infrastructure
Gent, Belgium and Merrimack NH, USA (Vocus/PRWEB) March 03, 2011
Bricsys, the company behind Bricscad, the #1 .dwg CAD alternative, today announced the release of Bricsys Meeting Point, a new online communication hub for end users, application developers, and Bricsys' .dwg specialists.
The hub enables third-party application developers to support their customers at little or no cost. The applications can be ones that run on Bricscad or AutoCAD, and additional assistance can be obtained from Bricsys and DWG specialists, if needed.
All end users and registered visitors can log on to http://www.bricsys.com/meetingpoint, and then gain access to all the features of Meeting Point.
Bricsys has rightly earned a rock solid reputation for the online support it extends to its customers and third-party application developers. Bricsys has been able to provide excellent support services for the last many years, thanks to its cloud-based system that integrates all localized Bricsys Web sites, which now number 56 around the world. Every support request and solution is stored in a centralized support database, from which registered users can refer to the complete set of communications they had with the support team going all the way back to their registration date.
About Bricsys Meeting Point
With the release of Bricsys Meeting Point, Bricsys now extends its online services to a three-way communications portal, allowing end users, application developers, and the Bricsys support team to work together. When a problem occurs with a third-party application running on AutoCAD or Bricscad, end users can now post support requests at Bricsys Meeting Point. The system automatically sends messages to the appropriate application developer. When developers post their responses, they appear in the users' "My Stuff" area, together with the full history of all support requests. At any time, the end user or the application developer can call on the Bricsys team for help.
This process solves technical problems transparently and efficiently. Logging all correspondence for later consultation avoids misunderstandings and prevents unnecessarily repetitive communications.
Clear Benefits for Application Developers
With Bricsys Meeting Point, application developers now have access to a professional support system for their customers, no matter where they are located. For applications that run on both AutoCAD and Bricscad, developers can use the Bricsys system to also support their AutoCAD-based customers.
More than 170 professional applications can be purchased online from the Bricsys Application catalog http://www.bricsys.com/applications which is fully automated through the services of RBS. Bricsys added an automated invoicing system. Application developers can use the invoicing and credit card services for a small fee of just 5% (to cover the cost of RBS and Bricsys administration).
Added Perks for Users
Bricsys Meeting Point has even more for end users: instant communications feeds for participants.
In the Community Feed section, users can communicate directly with other participants and post short messages to the community about any topic. Users can fine-tune types of content and areas of interest in the Feed Settings area.
In the Application Feed section, application developers can post short messages that are visible to those users who indicated interest in that application range. For application developers, this feature substantially extends their communication possibilities.
Bricsys offers these services at no charge to registered end users and application developers in 70+ countries and in 20 languages.
"With Bricsys Meeting Point, we are providing a solution that lets application developers support their customers professionally -- without the need for them to invest in a costly infrastructure," explained Erik De Keyser, CEO of Bricsys.
"For years, we have been delivering unmatched 24/7 support to our customers and application partners worldwide," he continued. "Together with our powerful infrastructure, this experience now enables all of our applications developers to be part of it. Because it is beneficial for all – end users, application developers, and Bricsys – this is part of what we mean when we declare 'Bricscad is the #1 .dwg CAD Alternative,' alternative with a capital A!"
As of today, Bricsys Meeting Point is available to all registered visitors. To access to Bricsys Meeting Point, log on at http://www.bricsys.com/meetingpoint. A video is available at our Bricsys YouTube channel http://www.youtube.com/bricsys that guides you through the main features of Bricsys Meeting Point.
About Bricsys
Through a network of 70 offices on four continents, Bricsys is a global provider of engineering software. The product portfolio consists of Bricscad design software; Vondle extended SaaS platform; and Bricsys Meeting Place support network. Bricscad is the powerful DWG-alternative CAD platform that enables DWG-based applications to serve the growing markets of GIS, AEC, mechanical CAD, and civil engineering.
Bricsys products are available in 14 languages, with more languages in development. Every month, Bricsys transparently reports to its customers on the status and development of its software products. Wherever they are around the globe, customers can communicate support requests directly to the Bricsys support team around the clock.
Bricsys is a founding member of the Open Design Alliance and thereby contributes to interoperability in the engineering industry.
For more information about Bricsys, contact us through http://www.bricsys.com.
###