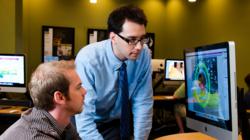 Ocala, FL (Vocus/PRWEB) March 07, 2011
Rasmussen College announced today it will host a free Open House and Ribbon Cutting Ceremony at its new Ocala, FL college campus from 2 to 4 p.m. on Thursday, March 10. The public is invited to explore the new facility, located at 4755 SW 46th Avenue next door to West Marion Hospital, and meet the faculty, staff and students. Refreshments will be provided.
Ocala Mayor Randy Ewers, Marion County Commissioner Kathy Bryant and Ocala/Marion County Chamber of Commerce President and CEO Jaye Baillie will be the featured speakers during the opening ceremony. Afterwards, attendees can take part in free tours of the new facility, which has moved from its previous location on SW 19th Avenue.
"We are very excited to unveil our new facility to the community," said Rasmussen College Ocala Campus Director Pete Beasley. "This strategic location next to West Marion Hospital is more convenient for our nursing and allied health students, and it allows us to offer an amazing, state-of-the-art computer technology center that's perfect for anyone interested in IT systems management, high-end design and even gaming development."
The new Ocala campus computer lab features Alienware high-performance custom gaming PCs, as well as a complete Windows server room setup for students interested in IT system admin or networking careers. In addition, numerous Mac computers afford digital design degree seeking students the industry-standard tools they need to explore the high-end design and art/creative side of the IT spectrum.
In addition to its well-stocked computer lab facilities, the library at the new Rasmussen Ocala facility is part of a national consortium network of more than 7,000 other facilities, providing access to vast resources for both curriculum-based projects and leisurely enjoyment.
The Ocala Campus offers both traditional on-campus and online Bachelor's and Associate's degrees for students of all ages and degree levels. Spring Quarter begins April 4. To get more information about enrollment at Rasmussen College, visit http://www.Rasmussen.edu.
About Rasmussen College
Founded in 1900, Rasmussen College is a premier provider of educational experiences, dedicated to the growth and development of its students, employees, and the communities it serves. Accredited by the Higher Learning Commission, Rasmussen College offers Bachelor's degrees, Associate's degrees, certificates, and diplomas in fields with the greatest occupation opportunities to more than 15,000 students both online and through its network of 21 campuses. By partnering with leading universities, Rasmussen offers opportunities to students beyond the Bachelor's level. The Rasmussen Partner Network gives students the opportunity to earn Master's and Doctoral degrees completely online, at their own convenience, from prominent universities around the country. To learn more about Rasmussen College, please visit Rasmussen.edu.
###