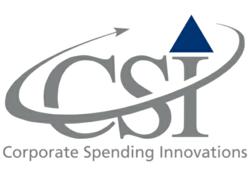 "Both CSI and Advantage are focused on delivering innovative A/P solutions to better assist our customers," explained Keith Stone, CSI President/CEO. "
Bonita Springs, FL (Vocus/PRWEB) March 03, 2011
CSI Virtual MasterCard® Team joins forces with Advantage Software.
CSI Enterprises, Inc., a leader in innovative financial solutions for enterprises and business, announces its new alliance with Advantage Software. The CSI Virtual MasterCard® program will be offered as a "new feature" available through Advantage Software, designed by agencies for agencies.
The CSI Virtual MasterCard® Program is an electronic payment system that works with its customers' existing accounts payable (A/P) systems. The solution provides security and control by generating unique "one-time" use credit card account numbers for each vendor payment. It reduces A/P processing costs and offers cash rewards on all payments made through the program. The program is offered at no cost and includes complete implementation services. Implementation includes full vendor enrollment support, maximizing vendor participation and minimizing the time commitment by the customer's A/P personnel. CSI maintains an extensive database of participating advertising agency vendors which helps facilitate the rapid roll-out of the program.
"We are very pleased to partner with Advantage Software," explained Keith Stone, CSI President/CEO. "Both CSI and Advantage are focused on delivering innovative A/P solutions to better assist our customers."
"After hearing from our mutual clients about the success they have experienced with the CSI Virtual MasterCard® solution, we knew that a partnership would provide our clients with an extremely valuable tool," explained Ellen Coulter, Advantage Software President. "The CSI Virtual MasterCard® Program is simpler and more efficient to deploy when integrated with our agency management software. We look forward to introducing this unique new feature to our clients and helping them understand the many benefits it has to offer. We expect the first installations to follow April 2011 with a free overview and training webinars."
Advantage Software offers a suite of products with features an agency needs to monitor and improve productivity and increase profitability. Advantage is completely scalable to fit the needs of any size business, whether an Advertising Agency, Creative Shop, Marketing Firm, Media Buying Company, or related organization.
Both Advantage and CSI will be attending the prestigious Transformation 2011 March 7-9, 2011 held by the 4A's in Austin, TX. The 4A's is the national trade association of the advertising agency business. It represents more than 1,100 member agency offices in the U.S. that employ over 65,000 people, offers a wide range of marketing communications services, and places 80 percent of all national advertising.
The CSI Virtual MasterCard® Team will be located at booth #2. Advantage Software will be set up at booth #14. CSI and Advantage plan to make contact with some of the industry's top executive Advertisement/Multimedia Leaders. The event boasts guest speakers such as Ron Stitt, Group Vice President, Digital Media, Fox Television Stations, Inc. and Alan Wurtzel, President, Research and Media Development, NBC.
For more information on CSI Virtual MasterCard® visit http://www.csivirtualcard.com
For more information on Advantage Software visit http://www.gotoadvantage.com
About CSI Enterprises, Inc.
CSI Enterprises, Inc. provides a specific line of controlled financial payment products including business fleet fueling/maintenance payment cards, a corporate virtual payment MasterCard® and card solutions for corporate purchasing, travel and entertainment spending. Today CSI and its products operate in all fifty states including Canada, Mexico and the Caribbean, with operating subsidiaries involved in municipal tax reclamation, venture capital and real estate development activities nationwide. Since 1988, CSI Enterprises, Inc. was the first and largest U.S. organization to have a successful corporate asset management and payment network throughout the U.S. and Latin America. The CSI MasterCard® is issued by Regions® Bank, pursuant to a license by MasterCard International Incorporated. MasterCard is a registered trademark of MasterCard International Incorporated.
###