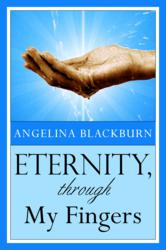 Bethel, AK (Vocus/PRWEB) March 05, 2011
Eternity, Through My Fingers, a new book by Angelina Blackburn, has been released by RoseDog Books.
Writing has always been Blackburn's chief creative outlet, giving life to many short stories, poems and even a novella. This book, however, has come from a different source. It is her first publication and represents an awakening from the long night of depression. Using His Word, the Lord has shown her that, to Him, she has great worth, and that He loves beyond her highest expectations and hopes.
Through these and others, the picture of the God she serves became clear, revealing One who loves with a love far greater than she had ever imagined. He has shown Blackburn that His love is constant and unwavering. Through this love, she has rediscovered her value as a person, as a woman, and as His child. God has painted for her, a picture of Himself, Eternity, using her own fingers.
Blackburn has no ecclesiastical training. Just a testimony of how God, through the medium of His Word, the Bible, can rebuild anybody, if they will let Him. And while His method is never how we think, the result is always far better than we anticipate.
Eternity, Through My Fingers is a 60-page paperback with a retail price of $11.00. The ISBN is 978-1-4349-8034-2. Rose Dog Books of Pittsburgh, Pennsylvania published it. For more information or to request a review copy, please visit our virtual pressroom at http://www.rosedog.com/pressroom or our online bookstore at http://www.rosedogbookstore.com
###