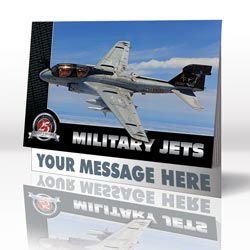 "We are proud to be one of the last truly American Made calendar companies left in the USA."
Los Alamitos, CA (Vocus/PRWEB) March 03, 2011
Sparta Calendars, a Southern California-based, family-owned promotional products company offering deluxe custom calendars for retail and promotional marketing, earned a total of 8 National Calendar Awards in 2011 from the Calendar Marketing Association (CMA). These annual awards recognize the Nation's best calendars. Adding to a record 11 National Calendar awards last year Sparta continues to set the standard for the highest quality calendars.
Sparta Calendars is celebrating their 25th Anniversary in 2011 as the world leader in aviation imprinted calendars, so it is no surprise that Sparta's most popular titles in this field "Ghost Warbirds", "Military Jets", "General Aviation" and "Shock and Awe" all won awards. Sparta's premium promotional calendars are the hands-down favorite imprinted calendars of the aviation, aerospace and military industries.
"Each year, more and more companies are choosing our premium American Made gift quality calendars when considering promotional products," said Hap LeCompte, of Sparta Calendars. "These companies just love the calls they get from their customers wanting to know when their calendars will arrive. Our clients can't believe their own customers are actually asking for their promotional items every year."
In addition to Sparta's legendary aviation, aerospace, and military titles, Sparta Calendars also won awards for "Best Photography" and "Best Subject" with their "Four Seasons" and "Premier Golf" calendars.
"We are honored that the CMA has recognized our calendars once again and awarded them so highly," said LeCompte. "Our wall calendar business continues to grow larger every year, confirming that we are doing something right. At Sparta Calendars we are proud to be one of the last truly American Made calendar companies left in the USA. For 25 years we have watched our competitors run over seas or to Canada for production to make cheaper calendars for greater profits, knowing we are at the top of our industry with American products just feels good. Coincidentally these awards are just in time for our March 25th anniversary incentives, where we award our clients who order with the greatest savings of the year."
To learn more about Sparta Calendars, visit http://www.spartacalendars.com
###