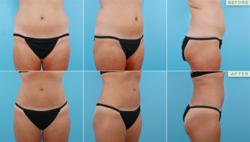 Toms River, NJ (Vocus/PRWEB) March 08, 2011
Swimsuit season is quickly approaching, and women considering plastic surgery procedures like a breast augmentation, tummy tuck or liposuction in New Jersey need to move soon to ensure they can reserve a spot and give their bodies enough time to heal before the warm weather hits. Dr. Christopher Godek and Dr. Michael Nagy at the Personal Enhancement Center are ready to help women decide which procedures are best for their bodies.
"Recently, we have seen an increase in the number of women choosing plastic surgery to help them remove signs of pregnancy and childbirth so they look better in summer wear," stated Dr. Godek. "Sometimes this series of procedures is known as the 'Mommy Makeover.' It combines a tummy tuck with liposuction and breast augmentation. New Jersey women can save money and down time by having these procedures done at the same time."
If a woman is considering this procedure combination, she should be finished having children and be in good overall health and close to her ideal weight. Having the procedure and then a subsequent pregnancy can make the results less permanent. Future weight gain can also impact the longevity of the results.
Of course, plastic surgery is not just for women who have had children. Some who have lost a significant amount of weight will be left with sagging breasts and flabby abdominal areas. Again, with the help of liposuction or a tummy tuck, New Jersey women in this situation can regain their feminine curves and a body they are proud to show off at the beach.
Dr. Godek and Dr. Nagy are careful to help their patients understand what to expect from their surgeries. "We feel strongly that our patients need to have realistic expectations about what surgery can and cannot do. For this reason, we have each potential patient come in for a consultation to help ascertain their goals and determine what procedures will work best to help them reach their goals," says Dr. Nagy.
If a woman's goal is to look great in a bathing suit in a few months, Dr. Godek or Dr. Nagy will encourage her to have her procedures during the winter or early spring. "Many patients are surprised at the length of time it takes before they can see results. It can take several months before the swelling and bruising are completely gone. Having surgery now gives the body sufficient time to heal before summer," says Dr. Godek.
About Personal Enhancement Center
Contact our office today and speak with a professional staff member to learn more about Personal Enhancement Center. Our friendly patient care team can assist you with any questions or concerns. For more information visit http://www.personalenhancementcenter.com or contact the office at 732-281-1988 or 1430 Hooper Avenue, Tome River, NJ, 08753.
# # #