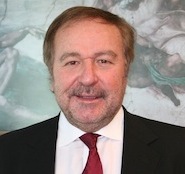 Akyildiz was recognized "for pioneering contributions to wireless sensor network architectures and communication protocols."
Los Alamitos, California (Vocus/PRWEB) March 07, 2011
Ian F. Akyildiz, Ken Byers Chair Professor in Telecommunications at Georgia Institute of Technology's School of Electrical and Computer Engineering, is the 2011 winner of the prestigious W. Wallace McDowell Award.
The McDowell Award is given to individuals for outstanding recent theoretical, design, educational, practical, or other innovative contributions in the field of computing. Akyildiz was recognized "for pioneering contributions to wireless sensor network architectures and communication protocols."
Akyildiz is director of Georgia Tech's Broadband and Wireless Networking Laboratory. He has held visiting professorships at the Universidad Técnica Federico Santa María in Chile; Université Pierre et Marie Curie (Paris VI) and Ecole Nationale Supérieure Télécommunications in Paris, France; Universidad Politécnica de Cataluña in Barcelona, Spain; and Universitat de les Illes Balears in Palma de Mallorca, Spain.
He is the editor-in-chief of Computer Networks (Elsevier) as well as the founding editor-in-chief of Ad Hoc Networks (Elsevier). He is a past editor for IEEE/ACM Transactions on Networking (1996-2001), Kluwer Journal of Cluster Computing (1997-2001), ACM-Springer Multimedia Systems (1995-2002), IEEE Transactions on Computers (1992-1996), and ACM-Springer Wireless Networks (1995-2005).
He was the technical program chair of the Ninth IEEE Computer Communications workshop in 1994, ACM MobiCom '96, IEEE INFOCOM '98, and IEEE ICC 2003. He was the general chair for ACM MobiCom 2002 and co-founded the ACM SenSys Conference.
Akyildiz serves on the advisory board of several research centers, journals, conferences, and publication companies. He received his BS, MS, and PhD degrees in computer engineering from the University of Erlangen-Nuernberg, Germany, in 1978, 1981, and 1984, respectively.
The award may be given for a single contribution of great merit or a series of lesser contributions that have had or are expected to have an important influence on the computer field. It consists of a bronze medal and a $2,000 honorarium. For more information, visit http://www.computer.org/portal/web/awards/wallace.
McDowell, who spent decades working for IBM, directed development of the first commercial electronic calculator. He was later responsible for development of major advances, including IBM's card-programmed calculator, magnetic drums and tape units, magnetic core and disc storage, the company's "700" systems, and the Naval Ordinance Research Calculator.
One of computing's most prestigious individual honors, the W. Wallace McDowell Award has a list of past winners that reads like a who's who of industry giants. They include Intel Corp. co-founder Gordon Moore (1978); microprocessor inventor Federico Faggin (1994); World Wide Web inventor Tim Berners-Lee (1996); Lotus Notes creator and Microsoft Chief Software Architect Ray Ozzie (2000); supercomputer pioneers Seymour Cray (1968), Gene Amdahl (1976) and Ken Kennedy (1995); and the architect of IBM's mainframe computer Frederick Brooks (1970).
The award will be presented at an awards dinner on Wednesday, 25 May in Albuquerque, New Mexico.
Jiawei Han, a computer science professor at the University of Illinois at Urbana-Champaign, was the 2009 winner of the prestigious award for his research into data mining, information network analysis, data warehousing, stream mining, spatiotemporal and multimedia data mining, text and Web mining, and software bug mining.
Jiawei holds has received IBM Faculty Awards, an HP Innovation Award, the Outstanding Contribution Award at the 2002 International Conference on Data Mining, a 2004 ACM SIGKDD Innovation Award, and an IEEE Computer Society Technical Achievement Award in 2005.
Rice University computer scientist Krishna Palem, also head of the Institute of Sustainable Nanoelectronics (ISNE) at Singapore's Nanyang Technological University (NTU), was winner of the 2008 W. Wallace McDowell Award for his pioneering contributions to the growing field of embedded computing.
About the IEEE Computer Society
With nearly 85,000 members, the IEEE Computer Society is the world's leading organization of computing professionals. Founded in 1946, and the largest of IEEE's 38 societies, the Computer Society is dedicated to advancing the theory and application of computer and information-processing technology. The Society serves the information and career-development needs of today's computing researchers and practitioners with technical journals, magazines, conferences, books, conference publications, certifications, and online courses. For more information, visit http://www.computer.org.
# # #