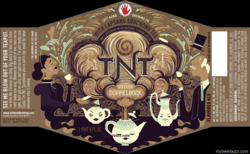 "We are honored to have lent a helping hand in Head Brewer Ro Guenzel's modern combination of the world's two oldest brews: tea and beer."
Boulder, Colorado (Vocus/PRWEB) March 04, 2011
Longmont's Left Hand Brewing Co. is releasing a limited edition beer infused with tea from The Tea Spot of Boulder. Exciting infusions are occurring in Colorado! Now, both tea and beer enthusiasts can taste their worlds in one sip with the Lapsang Souchong brew. The beer has been dubbed TNT. TNT is a Weizen Doppelbock - a strong wheat beer - infused with Lapsang Souchong tea, most notably well-known for its smoky character.
Jared Kochik, The Tea Spot's Director of Operations and one time employee of Left Hand Brewing, was the liaison who kindled the partnership for this blend. "As a long time beer geek and general tea enthusiast, it's exciting to see these two worlds collide in Left Hand Brewing's TNT. The unique, smoky notes of the Laspsang Souchong black tea ride quite smoothly alongside the powerful flavor of the Weizenbock. We are honored to have lent a helping hand in Head Brewer Ro Guenzel's modern combination of the world's two oldest brews: tea and beer."
The tapping of this limited edition beer will be held at Left Hand's Tasting Room in Longmont on Friday, March 4th, 2011 at 5 pm, with representatives from The Tea Spot in attendance.
ABOUT LEFT HAND BREWING CO. Left Hand Brewing has been brewing world class beer in Longmont since January, 1994, creating a well-balanced portfolio of award-winning beers that are now available in 26 states and 7 countries. Left Hand Brewing believes in balance in their beers, that beer is food, and won't make a beer that they wouldn't drink. Patrons can now check out a real-time read-out of Left Hand Brewing's solar power system energy production in their tasting room during normal business hours. Just ask one of their friendly bartenders to show you.
ABOUT THE TEA SPOT, INC The Tea Spot is a certified woman-owned and operated business producing proprietary products for loose-leaf tea. Patented tea serving and steeping products are marketed under the Steepware® trademark. They also offer a line of exclusive, organic, and Fair-Trade Certified™ leaf teas. Based in Boulder, Colorado, the company was founded in 2004 by Maria Uspenski, a cancer survivor drawn to the health benefits of leaf tea during her recovery. She set forth to modernize the loose-leaf tea experience, making it an everyday luxury. Her message is simple and powerful: tea in its freshest form renders incredible flavor, unmatched health benefits, and is eco-friendly. The company ensures that its products uphold clean, sustainable and fair manufacturing standards. The Tea Spot's model of social entrepreneurship incorporates a culture of giving as it grows: Ten percent of every sale made is donated in-kind to cancer and community wellness programs. More at theteaspot.com or media(at)theteaspot(dot)com.
###