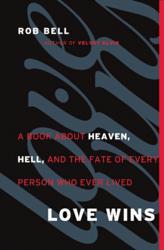 The good news is that love wins.
San Francisco, CA (Vocus/PRWEB) March 04, 2011
Rob Bell, pastor and bestselling author, is scheduled to appear at a live, globally streamed event on March 14, 2011. He will be in conversation with award-winning editor Lisa Miller of Newsweek.
During the event, Bell will discuss his new book, Love Wins: Heaven, Hell, and the Fate of Every Person Who Ever Lived (HarperOne; March 15, 2011; Hardcover; $22.99). The book garnered significant attention in the blogosphere last weekend, prompting hundreds of thousands of comments. Bell was in the top ten trending topics on Twitter and the book trailer now has over 136,000 views. Love Wins is available for preorder from retailers by visiting http://www.robbell.com.
To learn more about this event and get instructions about joining the provocative conversation, visit HarperOne on Facebook.
On March 14, stream the event live at http://www.livestream.com/lovewins.
To purchase tickets for the event in New York City, go to http://www.lovewins.eventbrite.com.
Rob Bell will go on tour to seven additional U.S. cities following his New York appearance. The dates and cities are:
Grand Rapids, MI—March 17 and April 3
Atlanta, GA—March 31
Nashville, TN—April 5
Denver/Boulder, CO—April 7–9
Minneapolis, MN—April 11
Chicago, IL—April 14
Boston, MA—April 15
To learn more about seeing Rob Bell in one of these locations, visit HarperOne Publishers on Facebook (below.)
LOVE WINS: Heaven, Hell and the Fate of Every Person Who Ever Lived
By Rob Bell
HarperOne, an Imprint of HarperCollinsPublishers
March 15, 2011 | $22.99 | Hardcover | ISBN: 9780062049643
# # #