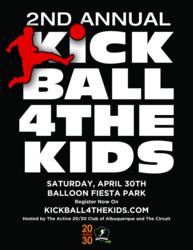 [We are] all going to make this tournament the best kickball tournament in the West.
Albuquerque, NM (Vocus/PRWEB) March 04, 2011
The Kickball 4 The Kids (K4TK) Tournament is one of the largest tournaments in the kickball world west of the Mississippi. The 2nd edition will be held on April 30th, 2011 at Balloon Fiesta Park in Albuquerque, New Mexico. Last year, an outstanding 30 teams gathered to raise money for the Albuquerque Active 20/30 Club. Teams can sign up to play this year at http://k4tk2011.eventbrite.com - registration is open, and ticket prices will increase at the end of each month.
The Active 20/30 Club of Albuquerque is a local chapter of an international organization comprised of young professionals between the ages of 20 and 39. The major objective of the organization is to raise money for local children's-charities in the greater Albuquerque area. To date, the Club has raised over 1.3 million dollars since its inception in the 1980s. Kickball 4 The Kids started as a spring fundraiser with the idea of raising money and dispersing it to even more charities than the Club is able to reach with its more established fall event, The Equestrian Cup.
Zack Wright, Event Manager of K4TK and 20/30 Club member, had this to say about the upcoming event, "This year's tournament is going to be better on all fronts. Last year was successful, but this year we have experience and time on our side. We are getting lots of buzz from out-of-state teams that want to travel in for the tournament. The changes we made (more vendors, tournament on Saturday, post-party) are all going to make this tournament the best kickball tournament in the West. Trust me."
This year, the 20/30 Club has partnered with title sponsor Hard Rock Casino Albuquerque. Rooms will be reserved at the casino for out-of-town teams. Additionally, the post tournament party will be held at The Hard Rock. These offerings will only amplify the entire kickball experience throughout the weekend.
As The Circuit's second tournament of the calendar year, the K4TK continues a series of competitive kickball events held across the country making up the Circuit National Tour. Additional confirmed tournaments to utilize the Circuit kickball rules include Virginia Beach, Virginia; Los Angeles, California; Atlanta, Georgia; Washington, D.C.; and New York, New York. Each event represents an open tournament supported by Kickball365 to bring together the ultimate competitive adult kickball teams in America. The teams travel from all corners of the nation to participate in these events leading up to the prestigious Circuit Cup – a true national championship for all competitive teams, regardless of hometown league. The Circuit Cup concludes months of competitive, fast-paced, dedicated, and fun sporting for active men and women determined to make a mark in their communities.
About K4TK
The Kickball 4 The Kids (K4TK) tournament is a Kickball365 Circuit Event presented by the Albuquerque Active 20/30 Club and the Hard Rock Casino Albuquerque. It was first held in 2010 as an independent event and now serves as the leading West Coast event for The Circuit's National Tour. More information can be found at http://www.facebook.com/group.php?gid=312741151003 or http://www.kickball4thekids.com
About Kickball365
Kickball365 was founded in 2006 as a means for players to give honest feedback on their kickball experience independent of any organization. It has grown into a major force shaping the growth of kickball across the country, facilitating the exchange of information and promoting the sport. Find us on Facebook and Twitter. The Circuit is a series of open tournament events supported by Kickball365 to bring together the ultimate competitive adult kickball teams in America. Learn more at http://www.kickball365.com/TheCircuit/. The upcoming Circuit Cup is a true national championship for all competitive teams, regardless of hometown league. Learn how your team could compete for $10,000 on October 9, 2011. Learn more at http://www.kickball365.com/thecircuit/circuit-cup/
Contacts
For the Kickball 4 The Kids:
Zack Wright
Event Manager
kickball4thekids(at)gmail(dot)com
For Kickball365 and The Circuit:
Matthew Kemph
Founder and CEO
contactus(at)kickball365(dot)com
http://www.kickball365.com
(202) 683-9971
# # #