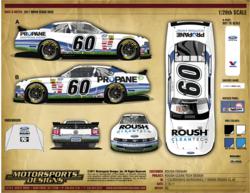 I'm really pumped about running the ROUSH CleanTech Ford Mustang for the first time in Las Vegas.
(Vocus/PRWEB) March 04, 2011
ROUSH CleanTech is looking to take the checkered flag at the Las Vegas Motor Speedway tomorrow as sponsor of NASCAR racing superstar Carl Edwards' No. 60 Ford Mustang Nationwide car. A member of the Roush Fenway Racing family, Edwards' race car will carry the alternative fuel's message to the 75 million NASCAR fans, showing America that propane autogas is a clean, safe and affordable fuel choice that is available "right-here, right-now". The Sam's Town 300 race will be held March 5 at 3 p.m. EST, channel ABC.
"NASCAR is one of the most viewed professional sports in terms of television ratings in the United States," said Jack Roush. "I'm excited to have Carl out there showing race fans and the sport what my team at ROUSH CleanTech knows about clean fuels and uncompromising performance. Propane autogas, already the third most widely used fuel in the world, is known for its reliability and durability. It's readily available in the U.S. and it's ready to establish itself as a winner on the track."
Edwards starts the race in Las Vegas with two top-10 finishes this season. Should Edwards bring the ROUSH CleanTech Mustang to the winner's circle, it would be his 30th career NASCAR Nationwide win. Last year, Edwards finished the season with four wins, 19 top-fives, 27 top-10 finishes, and three poles. Edward's car will feature the ROUSH CleanTech logo on the top of the Mustang, the "propane exceptional energy" log on the back quarter panel, and the website name on the back quarter panel.
"I'm really pumped about running the the ROUSH CleanTech Ford Mustang for the first time in Las Vegas," said Edwards. "I have a feeling this is going to be a good race for us. It's great to be going to Vegas with all the lights and excitement. The track has a great fan area and if you win the race they put you in the middle of the fans in the Neon Garage. That's where I want to be when the race ends."
ROUSH CleanTech launched in 2010 by automotive legend Jack Roush in direct response to a demand from commercial and public fleets for a viable, inexpensive, safe, and reliable alternative fuel option. Recognizing the broad impact America's transportation needs has our nation's carbon footprint, the leaders at ROUSH put their 35 years of automotive heritage to work in creating an alternative fuel vehicle application that burns cleaner than gasoline or diesel, with up to 20 percent less nitrogen oxide, up to 60 percent less carbon monoxide, up to 24 percent fewer greenhouse gas emissions, and fewer particulate emissions when compared to gasoline. These clean fuel engines peddle lower particulate emissions, increased fuel savings, safety, and durability.
"The Roush name says it all – Roush CleanTech is driven to win the alternative fuels race with a lineup of Ford-tough propane-powered vehicles unparalleled in performance, dependability and environment soundness," said Joe Thompson, president of ROUSH CleanTech. "We are ecstatic to have Carl's Ford Mustang proclaiming, lap after lap, that green power and peak performance are synonymous with ROUSH CleanTech."
About ROUSH CleanTech: Based in Plymouth Township, Mich., ROUSH® CleanTech offers dedicated liquid-propane injection fuel systems for a variety of light- and medium- duty Ford vehicles, including the F-150, F-250, and F-350 truck series, and the E-150, E-250, E-350, and E-450 cutaway van series. Currently offered through authorized Ford dealerships around the country, the ROUSH CleanTech propane autogas system delivers the same factory Ford performance characteristics, warranty coverage, and serviceability. Customers can reduce operating costs significantly while reducing vehicle emissions. Complete details on ROUSH CleanTech propane offerings can be found online at http://www.ROUSHcleantech.com or by calling 800-59-ROUSH.
# # #