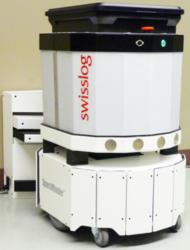 Denver, CO (Vocus/PRWEB) March 08, 2011
Swisslog, a leading provider of automated materials transport and medication management solutions, today announced that Scottsdale Healthcare Shea Medical Center in Scottsdale, Ariz., will install a SpeciMinder autonomous mobile robot in its central laboratory. SpeciMinder is expected to be operational later this month.
SpeciMinder robots are designed to transport specimens, tissues and other items between receiving and testing stations within the four walls of a laboratory. "We expect the SpeciMinder to help us achieve consistent, enhanced turnaround time and improved efficiency by relieving staff of manually moving specimens within the lab," said Susan Bittikofer, laboratory manager at Scottsdale Healthcare.
SpeciMinder features human-like voice commands that notify staff of its presence. Laser guidance assures avoidance of people and objects. Additionally, SpeciMinder can interface with automatic doors along its route.
SpeciMinder can operate 24 hours per day between battery recharging. The robot requires no facility modifications during installation, and its route can be quickly mapped and modified. It can transport a 50-pound payload at normal walking speeds through hallways as narrow as 27 inches.
Once SpeciMinder's payload compartment is loaded, a destination button is selected and the robot automatically picks the most efficient delivery route. After all deliveries are made, the robot returns to its charging station and remains there until called upon.
SpeciMinder is available for either purchase or lease. Swisslog also offers RoboCourier, similar to SpeciMinder but with a lockable payload compartment and elevator interface for hospital-wide materials transport. RoboCourier is typically used by the pharmacy to transport medications and supplies to nursing stations.
Swisslog Healthcare Solutions is the leading supplier of logistics automation solutions for healthcare facilities. Swisslog has installed automated materials transport and medication management solutions in more than 3,000 hospitals around the world, including more than 2,000 in North America. Swisslog offers total systems design, manufacturing, installation and customer support providing a complete supply chain management approach to the logistics challenges of hospitals. The North American division of Swisslog Healthcare Solutions is based in Denver, Colo.
About Scottsdale Healthcare
Scottsdale Healthcare is the community-based, nonprofit parent organization of the Scottsdale Healthcare Osborn Medical Center, Scottsdale Healthcare Shea Medical Center and Scottsdale Healthcare Thompson Peak Hospital, Virginia G. Piper Cancer Center at Scottsdale Healthcare, Scottsdale Healthcare Research Institute and Scottsdale Healthcare Foundation. A leader in medical innovation, talent and technology, Scottsdale Healthcare was founded in 1962 and is based in Scottsdale, Arizona. For more information, visit http://www.shc.org.
About Swisslog
Swisslog is a global provider of integrated logistics solutions for warehouses, distribution centers and hospitals. Its comprehensive services portfolio ranges from building complex warehouses and distribution centers to implementing Swisslog's own software to intra-company logistics solutions for hospitals.
Swisslog's solutions optimize customers' production, logistics and distribution processes in order to increase flexibility, responsiveness and quality of service while minimizing logistics costs. With years of experience in the development and implementation of integrated logistics solutions, Swisslog provides the expertise that customers in more than 50 countries rely on.
Headquartered in Buchs/Aarau, Switzerland, Swisslog currently employs over 2,000 staff in about 20 countries worldwide. The group's parent company, Swisslog Holding AG, is listed on the SIX Swiss Exchange (security number: 1232462, Telekurs: SLOG, Reuters: SLOG.S). For more information, visit http://www.swisslog.com.
###