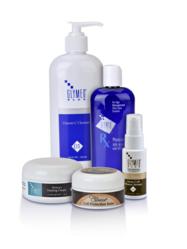 GlyMed Plus provides physicians with products that boost the effectiveness of cosmetic procedures.
Beverly Hills, CA (Vocus/PRWEB) March 04, 2011
GlyMed Plus, renowned leader in professional skin care, today announced five of their products as being crucial to any physician or skin care professional practicing cosmetic, surgical or esthetic procedures.
Christine Heathman, Master Aesthetician and innovator behind GlyMed Plus Purely Professional Skin Care, developed these innovative formulas to enhance and extend the effects of fillers, injections, cosmetic surgery, laser, light therapy and dermabrasion treatments.
Christine states, "More and more consumers are choosing cosmetic and surgical procedures to turn back the clock and they want the results of those procedures to last." She continues, "GlyMed Plus provides physicians and skin care professionals with products that promote a quicker recovery time and boost the effectiveness of these treatments, resulting in higher client satisfaction and repeat business."
Included in these products is Cell Science® Stem Cell Power Serum, used by Dr. Jeffrey Ayers, D.O. in his practice. Dr. Ayers states, "I have used Cell Science Stem Cell Power Serum for over 6 months and it has been my experience that it seems to prolong the effects of Botox™ beyond what we would normally expect."
These exclusive GlyMed Plus products will be featured at the Med SpaExec Event being held March 7th in New York City and includes Physician Elite Rx™ Vitamin C Cleanser, Physician Elite Rx AHA Accelerator, Age Management Skin Care System Arnica+ Healing Cream, Cell Science Cell Protection Balm and Cell Science Stem Cell Power Serum. Physicians and skin care professionals should call 1-800-676-9667 to take advantage of these exclusive products in their practice.
For over 20 years, GlyMed Plus® has been a renowned leader in the skin care industry, offering a complete range of Professional Only products, combining technologically advanced ingredients with certified organic botanicals to produce unparalleled results. GlyMed Plus is available only through the finest skin care and medical spas worldwide. To learn more about GlyMed Plus, including the Physician Elite Rx™ product line, visit http://www.glymedplus.com or call 1-800-676-9667.
# # #