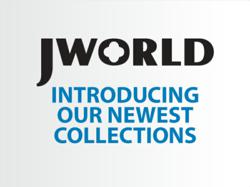 We always take function into consideration to create excellent product that work in real life situations. We owe our success over the past three decades to a continual superior design, functionality, innovation and value
New York, NY (Vocus/PRWEB) March 05, 2011
JWorld Sports, Inc. is a leading international backpack and luggage company that offers an extensive variety of innovative, functional yet fashionable products, today announced the debut of its newest collections. Inspired by New York City's urban lifestyle, each collection is designed with high quality, durability, and performance in mind to meet the ideals of consumers who live an active, fashion conscious, on-the-go lifestyle. All buyers are invited to partake in a special merchandising program during the launch at these trade shows:
Camex Campus Market Expo 2011, February 25-March 1, Houston, TX - Produced by the National Association of College Stores, CAMEX is the higher education retailing industry's largest trade show and educational event.
The 2011 Travel Goods Trade Show, March 6-8, Chicago, IL – The world's largest travel goods and housewares show represents the travel goods industry under one roof.
Since 1983, JWorld® brand has created innovative products at a competitive price to meet the needs of travelers and style conscious individuals worldwide. With a vast collection of products ranging from the ultra successful rolling backpack that "never breaks" to eco-friendly products, JWorld® brand understand the cross-section of function and fashion.
"JWorld® unique collection combines high-tech components like polycarbonate with fashion-forward design and ergonomic comfort," says Mr. Jung Won Kim. "We always take function into consideration to create lightweight, water resistant luggage and backpacks that work in real life situations, whether you're traveling on a jet, walking through rush hour traffic, or hiking a mountain. We owe our success over the past three decades to a continual excellent design, superior functionality, innovative technology and outstanding service."
"We embrace technical innovations while keeping in mind the people who use our products. This mindset allows us to equip people globally with high-quality, enduring and reliable products that deliver freedom to experience life's adventures." says Mr. Baegsu Kim
Styled with vibrant patterns and popular cartoon characters, this children's collection provides an extra edge of personality that kids' crave. Perfect for students, the popular rolling backpack easily transitions from home, to the bus, to after-school activities without a hitch. A highlight to the new collection is a rolling backpack that comes with sparkling wheels that light up as they spin.
"I bought this rolling backpack for my granddaughter's 10th birthday and she absolutely loved it," said a happy customer. "I bought it for the extra sturdy bottom because she can be hard on her things and the amount of space it had for her to pack all her school stuff in it. Also she is pink crazy and I thought this would be a hit with her and I was right!"
With an assortment of choices and styles, JWorld CAMPUS™ collection is mobile, durable and fashionable to meet the particular and demanding needs of junior high and college students. Laptop, Messenger, Sling, and Casual styles keep personal belongings safe while lightweight, ergonomic designs enable an active, on-the go lifestyle.
"I was forced to finally purchase a rolling backpack for school due to health issues, and after looking around at multiple places locally I was disappointed to find such few options available. When I saw this one from JWorld Sports, Inc., it seemed as if the shopping gods had finally smiled upon me," said a happy customer. It is the perfect size to fit several books, a binder and even a small sack lunch with multiple little pockets for organizing many necessary office supplies. It compresses down to a standard backpack size so you don't feel like you're sitting in class with a piece of luggage blocking the walkway. A quality product, well worth the price tag!"
Ideal for high-energy businesspeople on-the-go, the JWorld CEO™ collection includes laptop cases, briefcases, messenger bags, rolling back packs, and rolling duffle bags. "With today's fast pace lifestyles, it is important to have a bag that can take you from work to meetings to extracurricular activities and back home," said Freddy Hernandez, small business owner
All bags are made of highest quality non-leather material to ensure shock protection, keep materials safe while traveling and protect the environment. "JWorld Sports, Inc. does not manufacture leather products because we care about the future of our planet," says Mr. Jung Won Kim. "Instead we use durable, tough fabrics like ballistic nylon and polyester that hold heavy items for a long time while keeping a sophisticated and professional appearance."
Active enthusiasts of all ages can stay healthy and active with this line of backpacks. Special compartments and breathable material makes moving easy, whether you are hiking up a mountain, biking a trail, or packing for a weekend competition. The JWorld Active ™ collection's trademark sporty American style and lightweight construction allows you to focus on your actions, not on your luggage.
Whimsical patterns tie in elements of nature in this eco-friendly collection. In addition to stylish design, the JWorld ECO™ collection is made with PVC-free natural materials. It provides the eco-conscious customer with a stylish bag they believe in and are proud to carry.
The exceptional JWorld Travel™ luggage line uses innovative technology to deliver lightweight functionality with high performance durability. The hybrid construction includes a combination of fabrics and hardware that have never been used like this before.
JWorld Sports, Inc. is bringing the high life of New York City to the international stage with their new line of sophisticated bags. JWorld New York™ brand is a exceptional representation of JWorld Sports, Inc. functional, affordable bags designed for international consumers in more than 25 countries
MZI Global® strategies provide tactical market entry roadmaps for 17 industries and 10 cultures. MZI Global Corporation's practice is narrowly focused on "new markets" which have successfully resulted in over 1,000 breakthrough entry projects since 1987. Clients include inbound foreign clients entering North America, and outbound US companies seeking global brand expansion.
###