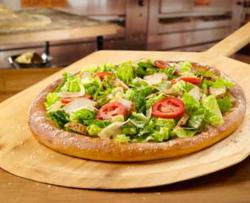 With spring in the air, we developed a fresh and flavorful menu to go with the season
Atlanta, Georgia (Vocus/PRWEB) March 04, 2011
Mellow Mushroom, an Atlanta based pizza company, will launch a National promotion centered on fresh new flavors for spring with a chance to win a VIP trip to Lollapalooza in Chicago. The Feed Your Head promotion begins March 7 and runs through April 17.
This limited time menu includes seven fresh new flavors of spring. The Hippie Dippy Trio features a sampling of Mellow favorites; bruschetta, olive tapenade, and hummus. Also featured is a new spinach dip, with fresh spinach and artichoke hearts. The Righteous Portobello Reuben is loaded with the powerful flavors of Portobello mushrooms, Swiss cheese, and a Bavarian-style sauerkraut. The Enlightened Spinach Salad gives the classic spinach salad a makeover by adding dried cranberries and caramelized pecans. Two specialty pies will be featured; The Freshies with fresh mozzarella, Roma tomatoes and basil, and The Caesar with an olive oil and garlic base, pesto chicken, provolone, mozzarella and feta cheeses topped with a fresh Caesar salad. This promotion will feature the new Shock Top Raspberry Wheat Beer, a craft beer with a light crisp taste and a hint of raspberry.
"With spring in the air, we developed a fresh and flavorful menu to go with the season," states Annamarie Balch, Director of Marketing. "The new product offerings gives our franchisees and guests something new and exciting to try."
Beginning on Monday, March 7, Mellow will launch the Create your own Mellow-dy contest as part of the Feed Your Head promotion. Consumers will have the chance to record and upload their favorite Mellow jingle and display it in the Feed Your Head gallery with the ability to share the video through email and facebook. Over a five week period, top videos, voted on by fans and a panel of judges, will compete in the semi-finals. One lucky customer will win a VIP trip-for two to Lollapalooza in August. "Music is part of the culture at Mellow Mushroom and tying our promotions to mega concerts like Lollapalooza draws excitement from our guests and fan base," states Balch.
For more information about the Feed Your Head promotion visit http://www.mellowmushroom.com or contact Tammy Lucich, Promotions and Events Manager at 404-505-2801.
###