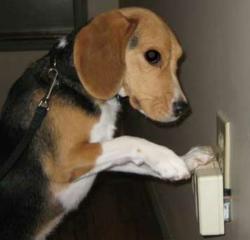 "A scent-detecting dog means more accurate diagnostic results and lower treatment costs. These dogs save customers money and, by reducing the amount of application, are a great way to go green."
Neptune City, New Jersey (Vocus/PRWEB) March 06, 2011
Bed bugs have finally met their match. The newest, latest weapons in the fight against bed bugs are highly trained bed bug detection dogs with names like Scout. These dogs diligently sniff out these repulsive blood-sucking parasitic insects with uncanny accuracy. Said Bill Cowley of Cowleys Termite & Pest Services, "Cost-effectively locating these elusive insects can be a challenge especially in large multi-room structures. Pest control professionals are realizing the time and cost savings of enlisting bed bug sniffing dogs to help conduct preliminary inspections."
According to Cowley, "Although bed bugs can wind up anywhere, structures with transient populations such as hotels, hospitals, apartments, university dorms, and other multi-type dwellings are particularly at risk. While scent-detection dogs certainly help in single-family homes to pinpoint bed bug locations, for large square footage structures, these dogs are worth their weight in gold."
Bed bugs are masters of the art of stealth. Because of their size – an adult is about the size of a flattened apple seed – bed bugs are able to hide in cracks the width of a playing card. So when locating just a few bed bugs, scent-detecting canines have a distinct advantage over human visual inspections.
Added Cowley, "Heavy infestations are easy to verify, but challenging to treat. You want to locate and treat bed bugs early before they become entrenched. Scent-detection dogs can quickly pinpoint even just one bug. Hotels and other commercial establishments are also taking a proactive approach by conducting periodic bed bug inspections before waiting for customer complaints. A bed bug inspection team can sweep a hotel room in a matter of minutes."
Continued Cowley, "Bed bug infestations are increasing at such an alarming rate that state legislatures are now getting involved. Bed bug legislation is heading down the pipeline in many states. The use of these specially trained dogs will skyrocket as the focus is changing to proactive detection to catch infestations early. For example, here in New Jersey there is pending bed bug legislation (A. 2072) that makes landlords responsible for eradicating bed bug infestations. Another pending bill introduced requires "alternative residential facilities" to have a bed bug maintenance plan in place with a licensed pest control operator. This bill (S. 2543) covers any facility licensed by the State that contains beds including hospitals, nursing homes, assisted living facilities, and homeless shelters."
Can a dog really sniff out a tiny insect? You bet. The olfactory ability of a dog is a marvel of anatomy and physiology. Lurking behind a dogs' textured, damp nostrils are sensitive membranes that allow a dog to distinguish smells that emanate from every living or once-living thing. A dog's sense of smell is well over 1,000 times more sensitive than that of humans. Scent detection dogs have proven their ability in challenging search and rescue missions and in detecting virtually everything from illegal narcotics to contraband agricultural products and even certain types of cancer. Bed bug detection is just another application that harnesses the power of a dog's scent-detection abilities.
Said Cowley, "We have a working partnership with a determined all-business beagle named Scout, and his handler, Doug Moore. It is amazing to watch this team in action. You almost want to tell the bed bugs, 'Time's up.' Scout is trained to specifically detect the presence of odor of live bed bugs and viable bed bug eggs. He has the same skill level as any rescue or narcotics-sniffing law enforcement dog and the same price tag – over $10,000."
Why use canine detection in locating bed bugs? According to Cowley, "More accurate diagnostic results mean lower treatment costs. By pinpointing the location of bed bugs, you don't have to unnecessarily treat an entire home, building, or hotel. Finding the location of hiding bed bugs dramatically cuts down on the amount of chemical used as well as lowering the cost of treatment. Bed bug-detecting dogs are a great way to go green and save money."
How do you find a reliable bed bug scent-detection dog? Find out where the dog was trained. For example, one exceptional facility, J&K Canine Academy, works with University of Florida entomologists. The dog and its handler should have NESDCA (National Entomology Scent Detection Canine Association) certification. Also, the dog must receive ongoing training. Ask to see the dogs' training logs. Finally, the bed bug detection service should be independent from the pest control service. The training and handling of these dogs is a full-time job.
Concluded Cowley, "People often waste time trying to deal with these infestations on their own. The only successful resolution to a bed bug infestation is a multi-tactic approach coordinated by a licensed, professional pest control service. "
For over 20 years, Cowleys Termite & Pest Control Services has been helping businesses and homeowners deal with a full range of pest infestations. We have years of experience in successfully resolving the most challenging bed bug infestations. For more information or to make arrangements for Scout to inspect your home or business, visit http://www.cowleys.com or call 866-9-COWLEY.
# # #