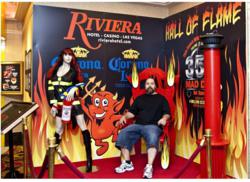 Sudbury, MA (Vocus/PRWEB) March 07, 2011
When Riviera hotel chefs tasted world famous Mad Dog 357 Silver, they found the missing ingredient for the World's Hottest Taco –the Terminator. Riviera Hotel guests hungry for a one-of-a-kind visit to Las Vegas are surprised when they drop into Kady's Coffee Shop and see the staff are all wearing firemen helmets. Some extra brave guests are gambling that they can eat 100% of a twelve-inch taco called The Terminator topped with a healthy dose of Mad Dog 357 Silver by Ashley Food Company.
Read the Disclaimer:
If you crave extreme heat in the middle of winter, the Riviera is the place to be. Caution is required, however. The sauce on The Terminator is so hot, diners must sign a disclaimer acknowledging they are participating "at their own risk." 357 Silver packs an out of this world 750,000 sizzling Scoville units making it the World's Hottest Hot Sauce ever made. Luckily, Kady's Coffee Shop overlooks the hotel pool if the Terminator's extreme heat causes you to abandon ship. Waitresses are standing by with your favorite beverage to extinguish the flames.
Eat all twelve inches of the world's hottest taco and your Terminator will be on the house. In addition to saving $7.99, the price of the taco, you'll go down in history and earn your place in the Hall of Flames. Your experience will be immortalized in a photo hung up in Kady's Coffee Shop next a few other brave souls who survived the experience.
Riviera's Claim to Fame
You'll recognize the hotel in films such as:

Ocean's Eleven (1960)
Austin Powers: International Man of Mystery (1997)
Vegas Vacation (1997)
Casino (1995)
Crazy Girls Undercover (2008)
21 (2008)
The Hangover (2009)
Best Cure for a Hangover
You'll forget you ever had a hangover once you sink your teeth into the Terminator Taco made with Ashley Food Company Mad Dog 357 Silver.
About Ashley Food Company, Inc.
David Ashley, President and founder of Ashley Food Company, Inc., has been creating all-natural, mouth watering, and award-winning products for two decades. For more information about the complete line of Hot Sauces, visit Ashley Food Retail Store.
###