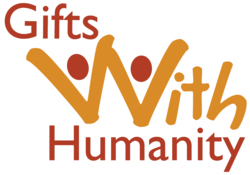 The time is right for US businesses to step up and support US community good causes. Good causes such as food banks are not side projects for a few in today's America, they are essential services, and it's time we got involved.
Edgewater, Florida (Vocus/PRWEB) March 10, 2011
Gifts With Humanity has launched its website with a new look and local community connection, the Good Cause program. Taking consumer power one step further, the Good Cause program is in the hands of the consumer, from nominating Good Causes to directing donations to the Good Cause that the consumer supports. Every purchase will support a US-based Good Cause in addition to the Fair Trade mission of selling handmade products from artisans in 20 countries.
With every purchase made, Gifts With Humanity will donate 10% of the order total to a US-based Good Cause of the consumer's choosing. Calling on consumers to nominate local good causes such as PTAs , mission trips, and food banks, Gifts With Humanity hopes to be distributing checks to hundreds if not thousands of charities.
Why? Over the last 8 years the site's founders Kevin Ward and Renice Jones have developed a successful Fair Trade business (Global Fair Trade Crafts Inc.) that last year achieved sales of $1.75 million. The business was featured on CNN Business last year as a small business that achieved $1 million in sales. Having witnessed 3 years of economic strife in the USA, Kevin and Renice decided that now is the time to give back to local causes. The America of 2011, is an America where food banks are essential, where PTAs provide essential support for schools and other charities are critical to rebuilding communities.
Having demonstrated through Fair Trade that a small business can be both ethical and successful, the founders are excited to be adding a local component.
The time seems right both for Gifts With Humanity as a business and within the context of non profits struggling all over the US to engage with local communities. As a Fair Trade company supporting artisans worldwide, the site is reaching into the heart of local America to complement its overseas work on poverty alleviation.
Owners, Kevin and Renice say they are really looking forward to connecting with local causes, finding out about consumers' good causes and connecting through social media. They hope that what has been essentially an online business, will make strong connections to communities all over America.
Initially the site launched with a few, mainly national causes, but the call is out for local good causes. In the first few days of launch, several Good Causes have already been added ranging from a local Black Heritage Museum in Florida to a Sustainable Eco Surf project in Hawaii – Ocean Girls Project.
While many online stores support a good cause or two, this is probably the only online site that gives consumers the control over who they support. Coupled with the essence of Gifts With Humanity as a 100% Fair Trade business that is a member of the World Fair Trade Organization and the Fair Trade Federation, this makes for a unique socially conscious shopping experience.
Gifts With Humanity Profile
Gifts With Humanity is a wholly owned brand of Global Fair Trade Crafts Inc. (DBA Global Crafts). Global Crafts was founded in 2002 by Kevin Ward and Renice Jones, following a 3 year volunteer experience in Kenya, Africa. The company is 100% Fair Trade, members of the Fair Trade Federation and the WFTO. Showing strong growth, the company has achieved sales of $1.75 million USD in 2010. Located in Florida the company employs 9 full time employees plus seasonal staff. Global Crafts estimates that its sales impact the lives of over 2000 artisans living in the poorest countries on earth.
Gifts With Humanity was launched in 2009 as a direct to consumer online retailer.
# # #