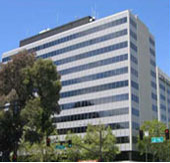 "We could not have found a sweeter location..."
San Jose, Calif. (Vocus/PRWEB) March 08, 2011
HiveMind Marketing, a digital marketing agency that integrates web design and development as well as email, search, and social media marketing, has expanded its operations by completing a move to downtown San Jose.
With its "killer" staff now numbering in the double digits, HiveMind Marketing needed a larger hive and has swarmed to a spacious corner suite on the third floor of the Community Towers building on Market Street in the heart of San Pedro Square.
The move provides new amenities for employees, improved services for clients, and room for continued growth. The agency achieved 100 percent growth in 2010 compared to 2009 and expects similar or greater growth in 2011.
"The new floor plan provides greater efficiency in how we serve clients," said Tom Lauck, CEO & Chief Creative Officer. "With the growth of staff and clients over recent years, a centralized office space that delivered convenience for both quickly became essential. With our new location, we have been able to consolidate services which improves internal communications and, most importantly, accelerates our response time in meeting the needs of our clients."
"We were fortunate to have found such a nice space so close to the center of downtown," added Lisa English, PhD, APR, Vice President & Sr. Marketing Scientist. "We wanted to ensure that the move was a fully positive experience for clients and employees, and I don't think we could have found a sweeter location. Our new offices enable us to deliver superior service at exceptional value today, and offer flexibility for ongoing evolution to keep pace with client and employee needs."
The agency moved into its new headquarters over the holidays to minimize disruption of ongoing projects. As of January 1, 2011, the agency's new contact information is:
111 North Market Street, Suite 300
San Jose, CA 95113-1116
(408) 418-4620
About HiveMind Marketing, Inc.
Founded by Tom Lauck, HiveMind Marketing is a digital marketing agency that integrates web design and development with email, search, and social media marketing to help companies build demand for their brands, products, and services. We believe that effective marketing is an integrated system made up of audiences, messages, objectives, strategies, and tactics with success dependent upon the integrity and interconnections of each of those parts.
While isolated tactical efforts can generate results, they make little difference in the context of high-level objectives, such as building demand, generating leads, engaging audiences, creating customers, and establishing champions. To make that difference, your marketing efforts must include a full understanding of the needs and characteristics of your audiences, your differentiated benefits to those audiences, and your objectives for communicating with those audiences, and then leverage best-in-industry, audience-centric strategies and tactical plans.
At HiveMind Marketing, that is what we do; that is who we are. We marry innate intellectual curiosity, helpless creativity, and practiced critical thinking with broad industry experience and knowledge of best practices to craft action-oriented, differentiation-focused strategic plans full of Remarkable Ideas that generate Sweet Results--for you.
# # #