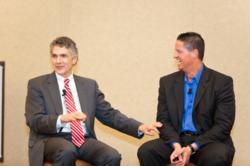 "The contest is designed to spotlight the power of planned giving," comments Scott Keffer, the Founder and CEO of The Donor Motivation Program.
Pittsburgh, PA (Vocus/PRWEB) March 09, 2011
The Donor Motivation Program and The Motivation Professionals of North America announce the Planned Giving Secret Millionaire Contest at DonorMotivation.com. "The contest is designed to spotlight the power of planned giving by hosting a very special contest in conjunction with James Malinchak, featured on ABC's New Primetime TV Show, "Secret Millionaire," airing on Sunday, March 20, 2011," says Scott Keffer, the Founder and CEO of The Donor Motivation Program, the sponsor of the contest.
The new ABC TV series, "Secret Millionaire," highlights some of America's most successful self-made millionaires who have agreed to embark on a truly life-changing journey. That journey will start in some of this country's poorest areas and end as each of these millionaires must reveal their identity and reward unsung community heroes and charities with hundreds of thousands of dollars of their own money.
Therefore, The Donor Motivation Program decided to use this positive show and their relationship with James Malinchak, who is a believer in planned giving and The Donor Motivation Program, to bring attention to charitable giving in general, and planned giving specifically.
What happened when business-motivational speaker and self-made millionaire James Malinchak was picked up by an ABC television crew, placed on an airplane with no money, credit cards, cell phone, laptop or watch, and was whisked off to an impoverished neighborhood, where he had to survive on $44.66 cents for a week? Viewers will find out when they watch the March 20 episode.
Nonprofits simply invite their donors to watch the Sunday, March 20th episode of "Secret Millionaire" on ABC TV at 8 PM Eastern and answer two simple questions: 1) To what city did they send James Malinchak for his special giving journey?; and 2) What's the name of the coach that James befriended? Then they log on to http://www.DonorMotivation.com/contest.html, click the Enter button and enter their information and answers. Their information will be kept strictly confidential, will never be shared and will be deleted immediately when the winner is announced on April 15, 2011.
The selected donor and sponsoring charity will both win. The donor and their guest will receive a 3-day all expense-paid trip to Las Vegas and attend a private, VIP Event at James Malinchak's home. The sponsoring charity will receive a $5,000 donation in the donor's name and the planned giving officer will accompany their donor to Las Vegas and the VIP Event.
"It's a bona fide 'feel good' show putting the spotlight on people of means who are making a difference by giving both time and money to charity" reflect Greg Hammond, CFP®, CPA and Scott Iles, Donor Motivation Professionals in Hartford, Connecticut.
Those featured on the show are not Johnny-come-latelies when it comes to giving. Neither are the millionaires in this country. High net-worth Americans are the driving force behind this country's charitable giving, according to the latest Bank of America study on high net worth philanthropy, researched and written by The Center on Philanthropy at Indiana University.
Steve Mann, a Donor Motivation Professional in Huntsville, Alabama shared, "In this country, almost every high net worth individual gives to charity, around 98 percent, and giving from high net worth folks makes up about two thirds of all individual giving."
Giving from bequests contributes a mere 8 percent of total charitable giving, a figure which should be double that amount according to Keffer, who adds, "In nearly two decades of assisting nonprofits in the arena of planned giving, two important foundational truths remain: healthy endowments are critical for the long term health of every nonprofit and proactive planned giving is essential to a strong endowment."
"It's clear that sustainable, proactive planned giving programs are essential to the viability of nonprofits, yet many nonprofits are struggling to maintain a strong planned giving model," adds Michael Palumbos, a Donor Motivation Professional in Rochester, NY.
In order for planned giving programs to be sustainable, they must become more and more cost effective and time efficient due to often severely limited resources. However, to ignore planned giving impedes the long term viability and stability of nonprofits.
Michael Slaughter, CFP®, AEP, CLU, a Donor Motivation Professional in Charlotte, NC, says with a smile, "Everybody wins: giver and receiver."
That's exactly what happens when people give. For more information and contest details and rules, visit http://www.DonorMotivation.com and click on the Planned Giving Contest tab.
###