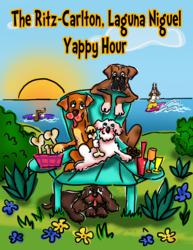 Dana Point, California (Vocus/PRWEB) March 06, 2011
Join us to sniff and schmooze with other dogs and their owners during Yappy Hour, our monthly cocktail party for canines and their companions. Kick back and relax while your pup kicks up some dirt on The Dana Lawn. Dogs will enjoy lapping up libations, thanks to water in his favorite flavor – bacon, chicken, cheese, beef or liver – while you enjoy wines from Mutt Lynch Winery. Featured Mutt Lynch Wines by the glass include Unleashed Chardonnay, Merlot Over and Play Dead, and Chateau d'Og Cabernet Sauvignon.
Yappy Hour is celebrated Thursdays, April 7, May 5, June 2, July 7, August 4, and September 1 from 5 to 8 p.m. The monthly events are held to raise money for Pet Project Foundation whose mission is "to enhance the quality of life of all companion animals in a pro-humane manner through compassion, responsibility, education and service."
The Mutt Lynch Story
Mutt Lynch Winery was born in 1995 combining Chris and Brenda Lynch's mutual passion for wine and "all things dog." Natural evolution carved out their roles. Chris dreamed of owning his own winery and started as winemaker – books, courses, not one ounce of natural production sense. Brenda started by helping Chris and quickly assessed the situation and took over – no books, no courses, but a natural sense of "what to do" in the cellar. Since its start, Mutt Lynch Winery has been sourcing its grapes from vineyards up and down the coast of California. Brenda's goal is to create fruit-forward wines with varietally true aromatics, mid palette weight and flavor, and a full bodied and balanced finish.
Yappy Hour Special Guests include:
Faux Paw Productions
Debby Carman is an artist, ceramicist, and author. She will be showcasing her line of the Worlds Most Beautiful Pet Bowls and Treat Jars, as well as a number of her large paintings of dogs.
Canvas Snap Shot
A professional photography studio that offers professional portraitures of guests and their pets on finished fine art canvas giclees.
Dr. Jill Goldman
Dr. Jill Goldman is one of 40 Certified Applied Animal Behaviorists in the world. Her fascination with animals and passion for their welfare first surfaced when she was just about five years old. Her innate understanding and empathy of animals, now combined with over 20 years of scientific and applied experience in the field of animal behavior, fuel her dedication and capacity to improve the lives of animals and the society in which they live.
Kimberly Adams Colgate
With more than 30 years of experience as a lawyer, a former full-time law professor and a national speaker, Kimberly is also the author of Pet Plan and Trust Guide. The Pet Plan and Pet Trust Guide teaches you how to protect your pets without hiring a lawyer. The words and illustrations teach you how to create a short-term emergency plan for your pet and explains what kinds of legal documents are available for you to protect your pet. The Pet Plan and Pet Trust Guide also includes a legally binding fill-in-the-blank trust document.
About Pet Project Foundation
Lost and abandoned animals have a second chance at a good life thanks to the Pet Project Foundation and the San Clemente-Dana Point Animal Shelter. The mission of the Pet Project Foundation is "to enhance the quality of life of all companion animals in a pro-humane manner through compassion, responsibility, education and service". Nowhere is this mission better exemplified than through our ongoing support of the shelter. This special shelter provides food, housing, exercise, medical care, and love for homeless animals until they are reunited with their owners or permanent, loving homes are found.
About The Ritz-Carlton, Laguna Niguel
The Ritz-Carlton, Laguna Niguel premiered as the first luxury resort along coastal Orange County in August 1984. Twenty-six years later, the resort is a re-imagined surfside retreat that awakens guests' senses with its unique ocean-front setting and remarkable service heritage. The resort is the premiere destination for travelers who desire a playful approach to Southern California luxury.
The resort has been the recipient of many awards over the years, but is proud to boast earning AAA Five Diamond status for the 25th year, the longest in California. The resort offers many extraordinary luxury experiences including Raya, 180blũ, The Market Place, Eno, Bar Raya, The Spa and Jean-Michel Cousteau's Ambassadors of the Environment. For more information or reservations call 800-241-3333, the hotel directly at 949-240-2000, a travel professional or visit the web site at http://www.ritzcarlton.com/laguna.
# # #