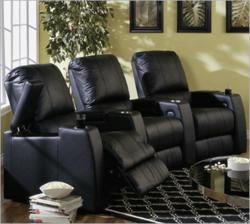 Hallandale, FL (Vocus/PRWEB) March 10, 2011
What better way to celebrate spring than with a terrific March Madness blowout sale?
TheaterSeatStore.com would agree with that sentiment, so much so that they're offering the public at large a no charge $199 service with their superbly priced home theater chairs this month.
"Now people can get their brackets filled out, order their home theater seats and get ready for Tourney Time.", said Chad Menard, lead Web Designer for TheaterSeatStore and an avid sports fan. Menard went on to say, "You may not get your home theater seating purchase right away due to processing and shipping, but if you hurry you can relax in your new home theater seats by the time baseball season starts. Sure, these seats were made for watching movies, but there's no law against using them to watch hours upon hours of sports, certainly not in the America that we know and love."
It doesn't matter if someone is a headstrong Buckeyes fan or a weak-kneed disciple of fabled 16 seed Murray State, this sale goes together with March like smell of a fresh rain and early morning birds-a-chirping. Why, it's as highly palatable as drinking a green beer, and dancing an Irish jig. But, this sale doesn't only celebrate the coming of spring, college basketball, and being Irish. TheaterSeatStore.com wants to make sure that everyone has a great place to enjoy their seasons, sports, and green beer.
TheaterSeatStore.com is a major player in online retail sales of high quality home theater and living room furniture. They are focused on complete customer satisfaction at every step of the purchasing process.
About TheaterSeatStore.com – TheaterSeatStore.com is a division of InteriorMark, LLC, who is the market leading retailer of home theater furniture products, entertainment furniture, massage chairs, sofas and sectional sets and bedroom furniture. The company offers a wide range of products and services designed to enhance and decorate a living room space or dedicated home theater environment. InteriorMark is a member of the National Home Furnishing Association and Western Home Furnishings Association, and is an A-rated member of the Better Business Bureau.
# # #