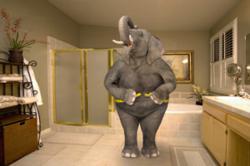 "Health reform is the direct result of the fact that our healthcare system cannot bear the disease burden we are placing on it through our own declining health status."
Farmington, CT (Vocus/PRWEB) March 08, 2011
While Congress continues to debate the Patient Protection and Affordable Care Act (PPACA), there are few clear answers for employers and plan sponsors wrestling to implement new provisions and control rising healthcare costs. LetsTalkHealthcareReform.com is a new blog from Nurtur, the health, wellness and life company serving employers, plan sponsors, health plans and government programs, that examines the new PPACA legislation in the context of encouraging greater personal accountability for health.
The new Nurtur blog is a forum to consider two fundamental questions at the heart of healthcare reform. First and foremost, Why aren't we in better health? Secondly, Are you ready?
Nurtur opened this dialog with employers and plan sponsors in a webinar. The blog will allow the conversation to continue with posts from three primary authors: Dan Cave, Nurtur President and CEO; Kyle Blumin, Nurtur Practice Leader for Health & Wellness; and Nancy Davis, MPH, Director of Product Development at Nurtur.
"Health reform is the direct result of the fact that our healthcare system cannot bear the disease burden we are placing on it through our own declining health status," said Cave. "As Americans, we don't have a sense of ownership over our own health and that is what needs to change."
Personal accountability has been the elephant in the room that no one wants to talk about. Individuals as healthcare consumers need to take greater responsibility for their health. Employers and plan sponsors in turn have an opportunity and responsibility to foster personal accountability for health by promoting wellness.
"The only long term sustainable way to reduce the cost burden on our healthcare system, and on benefit plans, is to encourage a healthier population," said Blumin. "The question for employers and plan sponsors is are you ready to promote personal accountability for health as a core value of what you do?"
Davis added, "The reality is, our lifestyle choices are the major factor contributing to poor health status, which is contributing to preventable chronic disease, which is putting an extreme burden on the healthcare system in our country. So really the choice to change is ours."
Join the conversation at LetsTalkHealthcareReform.com or email Nurtur for more information.
###