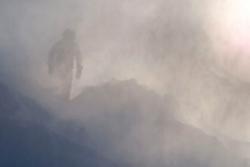 The Catlin Arctic Survey's scientists will work from a seasonal Ice Base created on floating sea ice on the edge of the Arctic Ocean
London, UK (Vocus/PRWEB) 8 March 2011
An international team of scientists today began their most intensive polar training to prepare for the Arctic hazards they may face on the 10-week Catlin Arctic Survey.
Caption: Walking through a storm during final training for the Catlin Arctic Survey(Martin Hartley/Catlin Arctic Survey)
Frostbite, hypothermia, dehydration, treacherous ice conditions, hazardous weather and visits from inquisitive polar bears are all potential risks the scientists and support crew must be trained to handle.
The Survey is a unique collaboration between explorers and research scientists to gather data in the inhospitable conditions of an Arctic winter. The Catlin Arctic Survey's scientists will work from a seasonal Ice Base created on floating sea ice on the edge of the Arctic Ocean in Canada, while a team of explorers will make two expeditions over the frozen Arctic wilderness.
Head of Operations for the Catlin Arctic Survey, Chip Cunliffe said: "The safety of our teams on the ice is of the utmost importance during the Catlin Arctic Survey. That's why all our scientists, explorers and staff have assembled in Resolute Bay, Canada, for rigorous training. Experienced polar guides will teach the team, particularly the scientists new to living in Arctic conditions 24/7, how to cope and survive in this harsh, unforgiving environment."
The Catlin Arctic Survey 'Ice Base' – a tented facility with mess, communications, research and sleeping facilities – will be constructed off the western coast of Ellef Ringnes Island. While the facility will be established on solid sea ice, scientists will travel to sampling sites further afield from the main camp. For this reason, understanding ice dynamics and recognising changes to ice conditions is an important part of polar training.
"Scientists are taught to identify changes to ice colour and stability: white ice is the safest colour and can be expected to be 6-12 inches thick – enough to walk or ski over. Gray ice is young ice between 4-6 inches thick and while it should support the weight of a person, it is best avoided. Black ice is newly formed, weak, thin ice and should always be avoided," said Ice Base Guide Carolyn Bailey, who is helping to prepare the scientists for life at the Ice Base.
The most well known Arctic animal, the polar bear, is also a hazard to anyone within the Arctic Circle. While an encounter with a polar bear is unlikely, it remains a possibility, so the Ice Base team is running through a polar bear drill. Bear bangers (loud, bright flares), personal attack alarms and a trip-wire fence around the camp are all measures to frighten away a local visitor. By far the team's best deterrent is a husky dog which will bark a warning if a bear approaches.
Travelling to the Ice Base is scientist Dr. Helen Findlay, of Plymouth Marine Laboratory: "Part of my preparations will also be checking that my science kit works in these extreme conditions. I'll need to adapt the way that I work to a system feasible for a small, heated but still very cold tent in the middle of the Arctic."
Ice Base Manager Simon Garrod and Field Operations Manager Ian Wesley will begin building the Ice Base on 10 March when they're dropped onto the floating sea ice with all the materials needed to build a temporary research station from scratch.
ENDS
More information is available at http://www.catlinarcticsurvey.com – This includes profiles of all explorers, scientists and support crew on the expedition
MEDIA CONTACTS:
Media Office
Tel: +44 (0) 203 170 8089
During out of normal office hours contact: Rod Macrae on +44 (0) 781 402 9819 –
Email: rod(at)catlinarcticsurvey(dot)com
PHOTO AND VIDEO

NOTES TO EDITORS
This will be the second year an Ice Base is established as part of the Catlin Arctic Survey expedition.
The base is expected to be established at broadly the same coordinates as the 2010 Catlin Arctic Survey Ice Base: 78°45'N 103°30'W.
Scientists from the UK, US and Canada will gather data at the Ice Base on the increased amount of fresh water in the Arctic and the thermohaline circulation. For a second year they will undertake research into ocean acidification.
The academic institutions participating in the Catlin Arctic Survey 2011 include Plymouth Marine Laboratory; University of British Columbia, Old Dominion University; Institute of Ocean Sciences (Fisheries and Oceans Canada) and the University of Exeter.
ABOUT CATLIN GROUP LIMITED
Catlin Group Limited is the title sponsor of the Catlin Arctic Survey for the third consecutive year. Catlin is an international specialty insurer and reinsurer. Catlin operates six underwriting hubs – London/UK, Bermuda, US, Asia-Pacific, Europe and Canada – allowing it to provide innovative risk transfer solutions to clients and their brokers worldwide. Catlin is proud to sponsor scientific research to increase our knowledge about the impact of climate change and other changes to the environment.
More information is available at http://www.catlinarcticsurvey.com
MEDIA CONTACTS:
Media Office
Tel: +44 (0) 203 170 8089
Out of normal office hours contact: Rod Macrae on +44 (0) 781 402 9819 –
Email: rod(at)catlinarcticsurvey(dot)com
# # #