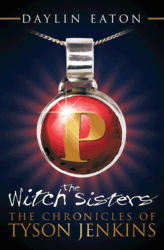 I have been fascinated by fantasy all my life," says Eaton. "It allows me to live in another world where anything can happen.
San Francisco, CA (Vocus/PRWEB) March 08, 2011
WonderCon, the trendy arts convention and the younger – yet equally as popular – sister to mammoth convention Comic-Con, celebrates its 25th anniversary this April, providing a clear message: fantasy never suffers a recession.
The world of magic and wizards, spells and archenemies continues to move fans from the couch to the bookstore, from the couch to movie theaters, from the couch to…well, just about anywhere. Readership for fantasy novels, from Harry Potter to the Twilight series, may be at an all-time high (Twilight's Stephenie Meyer having sold over 55 million units and Harry Potter's J. K. Rowling more than 400 million). Adding another log to the fantasy fire is author Daylin Eaton with his debut novel The Chronicles of Tyson Jenkins: The Witch Sisters (published by AuthorHouse).
The Chronicles of Tyson Jenkins tells the story of twelve year old Tyson Jenkins. Tyson lives in a world where everyone in it has a power, his being the ability to change into any animal or insect at will. Tyson is days away from starting his sixth grade year at his new boarding school, Cobalt Academy, a school for training and enhancing powers. When word gets out that the evil Witch Sisters want to steal the Pendant of Power, a device that has the ability to take and give powers, Tyson becomes determined to stop them and save the Pendant, with or without the help from his friends, Emma, Joy, Double D, and Liam. Despite many warnings from his friends, family, and Cobalt's headmistress, Dr. Bigsby, Tyson remains resolute. Will Tyson be able to stop the Witch Sisters, or will they bring about his demise?
The Chronicles of Tyson Jenkins provides an enchanting romp through Eaton's whimsical imagination – a highly seasoned imagination.
"I have been fascinated by fantasy all my life," says Eaton. "It allows me to live in another world where anything can happen."
Eaton began writing at the age of eight.
"First, I started out writing about superheroes because I was fascinated by superheroes like Spider-Man, Batman, the Fantastic Four, and X-Men. As I got a little older, I slowly began to write more Harry Potter and Eragon type stories."
Additional books in the Tyson Jenkins series are in the works.
About the Author
Daylin Eaton was born in Hayward, CA in 1991. This is his first book.
AuthorHouse is the leading provider of self- publishing, marketing, and bookselling services for authors around the globe. For more information, visit http://www.authorhouse.com.
EDITORS: For review copies or interview requests, contact:
Marketing Services
Tel: 888-519-5121
Fax: 812-961-3133
Email: pressreleases(at)authorhouse(dot)com
(When requesting a review copy, please provide a street address.)
###