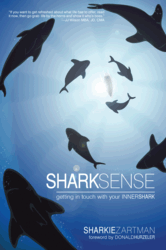 When Zartman's high school volleyball coach told her she was cut out to be a volleyball player, she didn't give up.
Hermosa Beach, Calif. (Vocus/PRWEB) March 08, 2011
Are you in touch with your inner shark? In the second edition of her book, Shark Sense: Getting in touch with your inner Shark (published by iUniverse) author and former professional athlete, Sharkie Zartman shares her secret to self empowerment through real life experiences, tips and time tested principles for reaching goals.
When Zartman's high school volleyball coach told her she was cut out to be a volleyball player, she didn't give up. Instead, she developed what she calls 'shark sense' and went on to be an All-American and a member of the National Team for volleyball.
As a professor and former coach, she has taught thousands of athletes and students. When she teaches, she uses stories and experiences to relate to drive the point home and help them remember the information. The author has carried this philosophy over to the book.
Shark Sense is a metaphor to encourage readers to reach their full potential. Successful people seem to have the same goal seeking characteristics—persistence, adaptability, focus and resilience—as sharks possess.
Put yourself in touch with your inner shark-instincts that are raw, powerful and simple to access. Regardless of whether you are looking for an edge on athletics, business or life in general, you can step away from the sidelines and achieve what you want with Shark Sense.
What reviewers for saying about Shark Sense:
This is not Sharkie's first book and hopefully won't be her last. With a series of real-life stories and situations, she lets us know that we're not alone out there, and with a little shark sense we can improve our current state of being. Weight issues, confidence, choices, career paths, and parental insights all get a moment to step up and challenge us. In a simple format of story/situation, how it relates to a shark's sensibilities, and how we can learn to confront these problems, Sharkie guides us through and brings us out on the other side.
—Donna Coomer, Between the Lines Reviews
About the Author
Sharkie Zartman is a former USA national volleyball team member and a former All-American athlete. At UCLA, she was a member of the first National Championship team and honored as one of the Top 25 volleyball athletes. Zartman has also been honored in the California Beach Volleyball Hall of Fame, the California Community Coaches Hall of Fame, and the El Camino College Athletic Hall of Fame. She was also a five year professional beach volleyball player, winning her first title in 1980 at the Marine Open. She now is a professor of health, fitness and yoga at El Camino College. She has also published Youth Volleyball, The Road to Fitness, Invitation to Fitness and Wellness and Yoga for Health and Fitness.
For more information, please visit http://www.sharksense.org.
iUniverse is the leading book marketing, editorial services and supported self-publishing company. For more information, visit http://www.iuniverse.com.
###