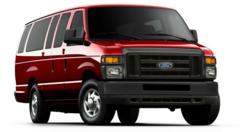 We've wanted to add the autogas E-series vans for quite some time, but needed CARB certification to seal the deal.
Michigan (Vocus/PRWEB) March 07, 2011
ROUSH CleanTech continues to roll out fleet vehicles fueled by propane autogas to California after the announcement today from the California Air Resources Board (CARB) that the company's fuel system for Ford E-series passenger and cargo vans were granted CARB certification status.
"This is truly exciting news for the ROUSH CleanTech team and our customers," said Joe Thompson, president of ROUSH CleanTech. "CARB certification is that final nod of approval needed to launch a full line of clean burning propane-autogas-powered passenger and cargo vans to fleet managers in California and other states, who have been eagerly awaiting the availability of our cost-effective alternative fuel solution."
CARB, the "clean air agency" of California, is charged with improving the air quality and reducing the public's exposure to air contaminants. Currently, California is the only state with such a regulatory agency, but several others follow CARB guidelines, including Connecticut, Florida, Maine, Maryland, Massachusetts, New Mexico, New Jersey, New York, Oregon, Rhode Island, Vermont, Washington, and others.
ROUSH CleanTech's CARB approval of the Ford E-150, E-250, and E-350 vans equipped with the 5.4-liter V8 engine will enable Prime Time Shuttle, serving Los Angeles International Airport (LAX), to meet new environmental directives set forth by the airport ahead of schedule. Prime Time will be the first ground transportation company at LAX to incorporate the newly certified vans into their existing fleet. Prime Time has 15 units ready for deployment with another 35 to 40 vehicles being added in the next few months. Over the next two years, Prime Time has committed to replacing their entire 175-van fleet with cleaner-burning propane autogas technology.
"We like what we see at ROUSH CleanTech," said Rattan Joea, president of Prime Time Shuttle. "We've wanted to add the autogas E-series vans for quite some time, but needed CARB certification to seal the deal. We can't wait to show our customers our commitment to a healthier environment with a reliable fleet of alternative fueled vans and shuttles, engineered with racing legend Jack Roush's dedication to superior automotive products."
Research shows propane autogas burns cleaner than gasoline or diesel, with up to 20 percent less nitrogen oxide, up to 60 percent less carbon monoxide, up to 24 percent fewer greenhouse gas emissions, and fewer particulate emissions when compared to gasoline. The switch to propane comes with impressive savings as well, including lower operating and maintenance costs; lower fuel costs, in part due to a $.50 per gallon tax credit through 2011; and increased engine longevity.
"Prime Time's switch means significant savings on several fronts," explained Todd Mouw, vice president of sales and marketing at ROUSH CleanTech. "Each of their vans travel more than 100,000 miles yearly, so Prime Time will see a tremendous reduction in harmful emissions. They will also contribute to the displacement of gasoline and see savings on maintenance and fuel costs."
When Prime Time Shuttle replaces all 175 of their vehicles with propane-autogas-powered units, they will be removing more than 8.2 million pounds of carbon dioxide from California's atmosphere each year. To estimate a fleet's savings with propane autogas, fleet managers can visit ROUSH CleanTech's online savings calculator at http://www.ROUSHcleantech.com.
"Propane autogas is quickly growing in popularity among those looking to clean up our cities' air," added Thompson. "Propane is domestically produced, environmentally friendly, and readily available. It is also an exceptionally safe fuel due to the fact that propane tanks are 20 times more puncture resistant than gasoline tanks, and propane has the lowest flammability range of all alternative fuels."
Already certified by the Environmental Protection Agency, the van was recognized recently with the "Propane Hero" award given to SuperShuttle for formidable performance as an alternative fuel vehicle at Phoenix Sky Harbor International Airport.
The E-series passenger and cargo vans join ROUSH CleanTech's existing lineup of eco-friendly vehicles, including Ford F-250 and F-350 propane autogas pickup trucks, which received CARB certification last year, and the E-450 cutaway van, which obtained CARB certification last month.
About the company: Based in Plymouth Township, Mich., ROUSH CleanTech offers dedicated liquid-propane injection fuel systems for a variety of light- and medium- duty Ford vehicles, including the F-150, F-250, and F-350 truck series, and the E-150, E-250, E-350, and E-450 cutaway van series. Currently offered through authorized Ford dealerships around the country, the ROUSH CleanTech propane system delivers the same factory Ford performance characteristics, warranty coverage, and serviceability. Customers can reduce operating costs significantly while reducing vehicle emissions. Complete details on ROUSH CleanTech propane offerings can be found online at http://www.ROUSHcleantech.com or by calling 800-59-ROUSH.
# # #