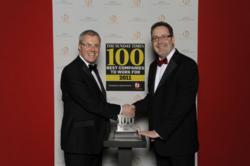 Colchester, UK (Vocus/PRWEB) 7 March 2011
Access, the mid-market consulting, software and solutions provider, has received recognition as one of the top UK employers in The Sunday Times 100 Best Companies to Work For list, which was published yesterday.
The research was carried out by Best Companies, which produces the prestigious list in conjunction with The Sunday Times. Access went straight in at 85th position; this adds to its recent success in achieving the Best Companies One Star Accreditation, which follows the Michelin style rating system and demonstrates high levels of employee engagement. Managing Director, Chris Bayne, received the top 100 award at a celebration dinner held at the Battersea Evolution on Thursday 24th February 2011.
The Best Companies survey of Access employees revealed that 83 per cent of staff felt they made a valuable contribution to business success, which ranked the company 15th in the overall list. A total of 90 per cent felt they went out of their way to provide a great service. Other strengths included 75 per cent of staff stating that they find their work stimulating – a top 30 result, whilst 76 per cent said they were excited about the direction the company was going, ranking Access 44th for this question.
This is the first time that Access has entered the mid-sized companies category; its previously received recognition in 2007 and 2008 when Access' Harpenden office (formerly Armstrong Consultants) ranked 17th and 19th respectively in the Best Small Companies to Work For list. It was also one of only 48 UK companies to be awarded Three Star Accreditation by Best Companies, for 'extraordinary' workplace engagement.
Chris Bayne, MD for Access and former co-founder of Armstrong Consultants, commented: "My ethos has always been that our people are core to our success. Over the past 18 months we've merged five companies under one brand and changed our whole business model. It's easy as a company grows larger for the communication lines to become more formal and for staff to disengage – we wanted to be sure that we didn't fall into this trap. We needed a barometer of where we stood in terms of staff engagement – as the Best Companies process is so rigorous, we felt this was the correct route to take.
"Gaining the one star status and a position on the top 100 companies list is the icing on the cake. I'm absolutely delighted. Now we're busy analysing the feedback so we can ensure we maintain those areas where we're doing everything right and also formulate plans to address the areas where we need to improve. We'll be looking to work with our staff every step of the way."
The listings are part of the largest, most comprehensive survey of employee opinion. This year 912 businesses participated, with a total of 325 organisations gaining recognition across four lists. The questions address eight workplace engagement factors looking at leadership, my manager, personal growth, wellbeing, my team, giving something back, my company, and fair deal. The results of the survey contributed to 100 per cent of Access' overall ranking.
For more information on Access contact Matt Newman on 0845 345 3300 or visit http://www.theaccessgroup.com.
Alternatively, keep up-to-date by following Access on:
Blog: http://www.theaccessgroup.com/access-blog.aspx
Twitter: http://www.twitter.com/theaccessgroup
LinkedIn: http://www.linkedin.com/company/403139
YouTube: http://www.youtube.com/user/theaccessgrouptv
SlideShare: http://www.slideshare.net/theaccessgroup
Photo caption: Founder & CEO Best Companies, Jonathan Austin (left) presents an award to Acces UK MD Chris Bayne
About Access

Access is a consulting, software and solutions provider, serving the mid-market
The consulting services are backed by more than 75 accredited consultants, providing business software expertise. They operate nationally out of 9 offices in the UK and Ireland
The software portfolio provides solutions to meet the needs of the whole organisation, helping to reduce complexity and increase efficiencies at every level. In addition to accounting and finance, Access also offers manufacturing software, professional services automation, and accounting for carbon emissions reporting. Other software solutions include distribution and warehousing, HR and payroll, document management, service and contract management and CRM and sales automation
Accreditations and memberships:
Microsoft Gold Certified Partner
Institute of Chartered Accountants in England and Wales (ICAEW)
Business Application Software Developers Association (BASDA)
HM Revenue & Customs: Payroll Standards Scheme
Awards:
Inclusion in The Sunday Times 100 Best Companies to Work For list for mid-market companies (85th)
Accountancy Age Award 2010 for 'Software Package of the Year'
SIFT Media Software Satisfaction Awards 2010 for 'Enterprise Accounting & Finance'
SIFT Media Software Satisfaction Awards 2010 for 'SME Human Resources & Human Capital Management'
FrontRange Partner Awards 2010 for 'CRM Partner of the Year'
Green IT Awards 2010 for 'Environmental Accounting Software of the Year'
Construction Computing Awards 2010, 'Construction Accounting Software of the Year'
Media information:
Helen Carpenter
Head of Group PR
Access UK Ltd
T: +44 (0) 1206 322575 / 07833 936311
F: +44 (0) 1206 322956
E: helen.carpenter(at)theaccessgroup(dot)com
W: http://www.theaccessgroup.com
Tim Cole
PR Executive
Access UK Ltd
T: +44 (0) 1206 322575
F: +44 (0) 1206 322956
E: tim.cole(at)theaccessgroup(dot)com
W: http://www.theaccessgroup.com
Access.080311.HC.BestCo
###