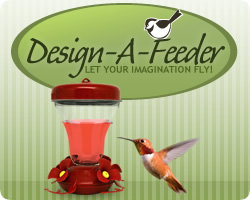 For the first time ever, you can custom design a Hummingbird feeder to your own "specifications."
Lititz, PA (Vocus/PRWEB) March 09, 2011
For the first time ever, you can custom design a Hummingbird feeder to your own "specifications." Perky-Pet®, the recognized industry leader in wild bird feeding, is the only manufacturer that offers the exclusive opportunity to design each element of your Top Fill Hummingbird feeder with the new Perky-Pet Design-A-Feeder Web Application. Let your imagination fly and select from an assortment of decorative bottles, bases and flowers that will attract Hummingbirds to your backyard. All feeders will be designed using the latest patent-pending Top Fill technology. The Top Fill wide mouth opening and sports bottle functionality allows for an ease of use that is unique to the industry.
Not sure what you want? View the Gallery where you can choose from any previously created feeder designs and then customize them the way you want. You can save your feeder creation or share it with friends. Design one today for yourself or as a gift!
Go now to design your own Perky Pet Feeder!
• NEW Design-A-Feeder
The Perky Pet site at PerkyPet.com offers helpful advice on bird watching and bird feeding to help birders attract more birds to their location. The site is an excellent resource for information on Hummingbirds, Wild Birds, and Orioles, as well as for a broad selection of bird feeders, hummingbird feeders, wild bird feeders, oriole bird feeders, feeder accessories, tube feeders, small bird feeders, bird baths, waterers and more.
An online "Bird Library" provides information on hummingbirds, wild birds, and orioles, with valuable details on species, characteristics, nesting habits, and food preferences, while "Birdwatching 101" is an informative source on great bird watching locations, equipment, and landscaping tips to attract our fine-feathered friends.
For more information and great tips and advice, please visit:
• NEW Interactive Migration Map
• Hummingbird Migration Facts
• Birdwatching 101
• Bird Library
• Shop for Bird Feeders
About Perky-Pet
Perky-Pet® brand is a trusted name to bird lovers, with high quality, functional feeders that address the demands of both bird hobbyists and enthusiasts alike. A good resource for just about every wild bird need is right at your fingertips- visit the Perky-Pet website PerkyPet.com to learn more about bird watching, feeding, tips and tools, and ways to attract birds.
Perky-Pet® is a registered trademark of Woodstream Corp.
About Woodstream Corp:
Woodstream Corporation is a long-standing, privately held company and a leading manufacturer and marketer of quality-branded wild bird feeders, rodent control products, caring control products for pets and wildlife, decorative garden accents & natural solutions for lawn and gardens.
###