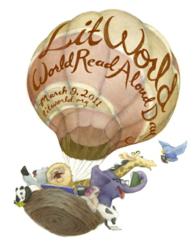 We look forward to March 9 where together we will celebrate the importance of literacy.
Ottawa, Canada (Vocus/PRWEB) March 07, 2011
FreeBalance, a Government Resource Planning (GRP) software For Profit Social Enterprise (FOPSE), will be participating in World Read Aloud Day on March 9, 2011. World Read Aloud Day is an international event organized by LitWorld that motivates children, teens, and adults worldwide to celebrate the power of words and stories. This event advocates the right for every child for literacy, safe education, and access to books and technology.
LitWorld will host a 24-hour Read-Aloud Marathon in Times Square on March 9, supported by the New York Daily News. Special guest readers at the event will include the Chancellor of Schools, Cathie Black, Deputy Mayor for Education and Community Development, Dennis M. Walcott, and many renowned authors and performers, including C. Alexander London, Adam Gidwitz, Jane O'Connor, and Jill Santopolo. A special LitWorld poem will be printed exclusively in the Daily News for New Yorkers to read together and help celebrate the power of the written word.
"Literacy is the human rights issue of our time," said Pam Allyn, Executive Director and Founder of LitWorld. "By learning to read, we all have access to information, the power of shared stories of the human experience, and a way to connect with one another. By raising our voices to express the written word, we come together on behalf of all the world's people who long to join the world of readers."
"We believe it is important to actively participate in the local community in a meaningful way," said Manuel Pietra, President & CEO of FreeBalance. "World Read Aloud Day allows our offices from around the world to engage with the community. We look forward to March 9 where together we will celebrate the importance of literacy."
FreeBalance employees will visit local schools, SOS Children's Villages, orphanages, or community centres in Antigua & Barbuda, Canada, India, Guatemala, Kosovo, Kyrgyz Republic, Liberia, Mongolia, Palestine, Sierra Leone, Timor-Leste, Uganda, and the United States. This year The Mixed-Up Chameleon by Eric Carle will be read. Colouring books and short story booklets will be provided to children by FreeBalance staff members. Text and activities will be translated to the local language to encourage understanding and participation. Children will receive a certificate of achievement.
FreeBalance customers span the globe and the user community includes public financial management professionals in 18 countries, including Afghanistan, Iraq, Kosovo, Liberia, Mongolia, Namibia, Pakistan, Panama, Sierra Leone, Southern Sudan, Timor-Leste, and Uganda among others. FreeBalance operates in 15 customer time zones. FreeBalance has more than 60,000 users around the world. FreeBalance software manages a global civil service workforce of 1,500,000, and also manages a quarter trillion ($US) annual budgets worldwide.
About LitWorld
LitWorld is a 501C3 nonprofit organization led by Founder and Executive Director Pam Allyn. LitWorld's mission is to cultivate literacy leaders worldwide through transformational literacy experiences that build connection, understanding, resilience and strength. Founded on the three pillars of access, advocacy, and education, LitWorld works with teachers, parents, community members, and children to develop sustainable reading and writing practices to engage the world's most vulnerable communities in the redemptive power of story. For more information, visit http://www.litworld.org.
About FreeBalance
FreeBalance helps governments around the world leverage robust Government Resource Planning (GRP) technology to accelerate country growth. FreeBalance software solutions for public financial and human resource management support reform and modernization to improve governance, transparency and accountability. Good governance is required to improve development results. For more information, visit http://www.freebalance.com.
###