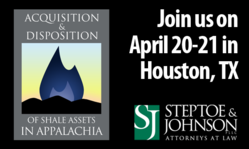 Charleston, WV (Vocus/PRWEB) March 08, 2011
If you're buying, selling, or financing assets in the Appalachian Basin, this seminar is for you! Learn how deals in Appalachia are different and how to safely address those differences.
Featured Speakers
Sharon O. Flanery, Esq., Steptoe & Johnson
Sharon Flanery concentrates her practice in the areas of energy and natural resources law and leads the Steptoe & Johnson Energy Team.
Russell L. Schetroma, Esq., Steptoe & Johnson
Russ Schetroma focuses his practice in the areas of energy and oil and gas law.
Special Lunch Message From
Bruce Kramer, Esq., McGinnis, Lochridge, & Kilgore L.L.P. & Professor Emeritus at Texas Tech University School of Law.
Bruce Kramer is a preeminent oil, gas, energy, and land-use legal scholar and co-author of several books that have become the definitive references for energy lawyers, including two multi-volume treatises, The Law of Pooling and Unitization and Williams and Meyers Oil and Gas Law (since 1996), as well as the last three editions of the Manual of Oil and Gas Terms. Bruce's books and legal articles have been cited as authority in numerous court rulings and appellate opinions. He also is an authority on land-use, zoning, and the conflicts that arise between mineral property owners.
Seminar Topics

Appalachian Title
Appalachian Due Diligence
Appalachian Leases, Farmouts, AMI, Joint Operations and Other Essential Arrangements
Appalachian Purchase and Sale Agreements
Regulatory Issues
Litigation in Appalachia, ARD and Dispute Avoidance
Securing Appalachian Oil and Gas Collateral
Click here to request an invitation or for more information
###