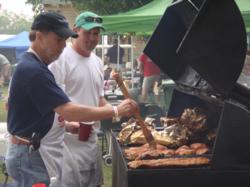 Families can enjoy tunes and a taste of Alabama all year long with food festivals that offer live music across the state.
Montgomery, AL (Vocus/PRWEB) March 10, 2011
Families can enjoy tunes and a taste of Alabama all year long with food festivals that offer live music across the state. Alabama's food festivals include culinary delights from butterbeans, shrimp, crawfish and peanuts to strawberries, peaches and potatoes.
The BBQ and Blues Cook-Off in Foley, Elberta's Original German Sausage Festival, and the BBQ Championship Hog Wild Festival in Mobile take place in March. The Chicken & Egg Festival and the In the Pines Festival is in April, Brewton's Blueberry Festival in June, Stokin the Fire BBQ at Sloss Furnaces in Birmingham is in August and the National Shrimp Festival in Gulf Shores takes place in October.
The Alabama Tourism Department has compiled a list of more than 30 food and music festivals that are among the many cuisine-themed events in 2011.
10th Annual BBQ Championship Hog Wild Festival, Mar. 11-12, Mobile
Thousands of visitors flock to the Greater Gulf State Fairgrounds for this hog wild benefit for United Cerebral Palsy. The festival includes live music, children's activities, barrel racing, cooking demonstrations and BBQ. 251.479.4900. http://www.bbqmobile.net.
BBQ and Blues Cook-Off, Mar. 19, Foley
The 3rd annual event offers a fun-filled day for the family with music, BBQ cook-off, silent auction children's activities and BBQ tasting. 251.943.3291.
The Original German Sausage Festival, Mar. 26 & Oct. 29, Elberta
Held the last Saturday in March and October families can enjoy German sausage, a variety of other foods, music, dancing, crafts, children's rides and games. 251.986.5805.
Asian Cultures and Food Spring Festival, Apr. 2, Birmingham
Visitors can enjoy a celebration of Asian art and culture with Asian foods, music, fashion show, kite building, Japanese Bhuto, a Chinese garden, and entertainment. 205-903-5569.
In the Pines Music Festival, Apr. 2, Chatom
A day of music includes an annual BBQ cook-off, arts and crafts and a Kids Zone. 251.847.2214.
Tri-State BBQ Smokin' in the Wiregrass Festival, Apr. 8-9, Dothan
An Annual Festival where BBQ is king. Schedule includes BBQ cook-off, music, and fun for everyone. Friday night offers a street dance while Saturday offers kids activities. 334.699.1475, http://www.tristatebbq.com.
24nd Annual Baldwin County Strawberry Festival, Apr. 9-10, Loxley
Savor fresh strawberries and food provided by more than a dozen vendors showcasing their culinary offerings including strawberry shortcake. The Tip Tops, Alabama Blues Brothers and more bands are scheduled to perform. Children will enjoy the carnival and pony rides while adults will enjoy arts and crafts, a classic car show and live music. 251.550.2003, http://www.baldwincountystrawberryfestival.org.
7th Annual Alabama Chicken and Egg Festival, Apr. 9-10, Moulton
Bring the family for a chicken clucking contest, karaoke, egg-eating contest, blues, country and bluegrass music, southern rock, arts and crafts fair and a Down on the Farm agricultural expo. Fifteen bands will perform on three stages. 256.303.0050, http://www.alabamachickenandeggfestival.com.
19th Annual Faunsdale Crawfish Festival, Apr. 15-16, Faunsdale
Enjoy Cajun-styled crawfish cooked several ways: boiled, fried, etouffee, pistolettes and pies. Also enjoy live music, arts & crafts and a crawfish eating contest. 334.628.3240.
Best Buckin' BBQ Cook-Off, Apr. 22-23, Athens
Families can enjoy live music, BBQ and children's activities at the Limestone County Sheriff's Rodeo Arena. 256.603.5251, http://www.bestbuckinbbq.org.
Pepper Jelly Festival, Apr. 30, Thomaston
Celebrate rural Alabama at the pepper Jelly Festival at the Old Marengo County High School. The event offers live music, storytelling, kid's games, BBQ, and a domino tournament. 334.627.3388.
13th Annual Saint Elias Lebanese Food and Cultural Festival, Apr. 29-30, Birmingham
Savor homemade Lebanese food, including baked kibbee, rolled grape leaves, spinach pies, and grilled lemon chicken, music. The Amin Sultan band from New York will perform both nights. Also enjoy dancing and tours of the only Maronite Catholic Church in Alabama. 205.521.8402.
Cooks & Chefs: Food and Wine Tasting Event, Apr. 30 – May 1, Birmingham
The tasting event showcases 14 chefs and 100 wines, live music, wine seminars and much more. Tickets are $25 advance/ $30 at door. 205.595.6306, http://www.magiccityart.com.
Whistlestop Festival and Rocket City BBQ, May 6-7, Huntsville
This event is sanctioned by the Kansas City Barbeque Society and includes professional and amateur BBQ competition on the grounds of the historic Huntsville Depot. National and local country music entertainers perform on stage. 256.564.8100, http://www.rocketcitybbq.com.
Catfish Festival, May 14, Scottsboro
A great hometown festival at Jackson County Park includes a catfish tournament for adults, catfish rodeo for children, free concerts, arts & crafts and a car show. 256.574.1330, http://www.jacksoncountychamber.org.
Gulf Coast Zydeco & Crawfish Festival, May 20-22, Daphne
Enjoy dancing, Cajun food, and Zydeco bands at the Daphne Civic Center. Saturday is Community Day featuring a parade. 251.626.5300. http://www.gulfcoastzydecomusicfestival.com.
31st Annual Alabama Blueberry Festival, Jun. 18, Brewton
Savor fresh picked blueberries and blueberry ice cream one day only. Festival also includes live music, blueberry cookbooks, antique car show, motorcycle show, arts and crafts and a children's area. 251.867.3224, http://www.alabamablueberryfestival.com.
Slocomb Tomato Festival, Jun. 18, Slocomb
Visitors will savor this family-friendly festival celebrating the tomato. The event features a Ms. Tomato Pageant, parade, live music to include gospel singing, and a recipe contest. 334.886.2334.
Chilton County Peach Festival, Jun.18-25, Clanton
Enjoy various foods made with peaches, barbecue, a cook-off, live music, a peach run, pageants and fishing tournaments throughout the week. 205.755.2400,
Sand Mountain Potato Festival, Jul. 4, Henagar
Celebrate Sand Mountain's heritage at the town park in Henager. The event includes live music, potato recipes, arts & crafts and culminates with a fireworks display. 256.845.3957.
Hot Ribs – Cool Blues, Jul. 15-16, Anniston
This is a Super Saturday event combined with the Florida Barbecue Association sanctioned event. The event includes a backyard BBQ cook-off, live music, a free concert, classic cars and a kid's zone. 256.237.5250.
Caribbean Reggae Festival, Jul. 29-30, Birmingham
The festival celebrates the rich diversity of Birmingham's people through Reggae and rock-steady music. Visitors will also enjoy a Caribbean marketplace and a Jamaican Jerk Chicken Cook-off. 205.520.0668.
Franklin County Watermelon Festival, Aug. 19-20, Russellville
The family will enjoy fresh watermelon and contests, arts, crafts, live music, 5K run, bike ride, golf, tennis tournament, antique car and truck show, beauty pageant, music, games and food. 256.332.1760.
Annual Stokin the Fire BBQ and Music Festival, Aug. 20, Birmingham
The cornerstone of this event is a world-class barbecue competition sanctioned by the Kansas City Barbeque Society. Professional barbecuers from around the country compete at the Sloss Furnaces National Historic Landmark in downtown Birmingham. Teams compete for a chance to win $20,000 in cash and prizes while local teams compete for bragging' rights to be the best Q in town. 205.324.1911, http://www.slossfurnaces.com.
Annual Okra Festival, Aug. 27, Burkville
Vendors offer home-grown okra, a variety of other foods, arts, crafts and jazz music. 334.652.1206.
6th Annual Alabama Butterbean Festival, Sept. 2-3, Pinson
A "Butterbean and Cornbread Cooking Contest" and a Miss Butterbean Beauty Pageant are the highlights of this festival as well as live music both days. More than 200 arts, crafts and food booths complement the event as well as a Tail Waggin' (dog) Pageant. 205.572.2041. http://www.butterbeanfestival.com.
Sweet Tater Festival, Sept. 4-5, Crane Hill
Families will enjoy plenty of sweet taters, live entertainment, door prizes, food, children's rides, arts and crafts. 256.531.7916, http://www.sweettaterfestival.com.
Low Country Boil, Sept. 15, Dothan
This annual fundraiser for Landmark Park in Dothan offers plenty of food and live music. Advance tickets required. 334.794.3452.
Riverfest Barbecue Cook-Off, Sept. 16-17, Decatur
Visitors will be able to eat plenty of BBQ at this Alabama State Barbecue Cook-Off Championship at Ingalls Harbor. The event features barbecue teams from throughout the U.S., and live musical entertainment. 800.524.6181.
Fiddlin on the Square and BBQ Cook-Off, Sept. 24, Athens
Visitors are welcome to bring their own banjo, filled or other musical instrument to join in the fun. Families will enjoy plenty of BBQ and live music in downtown Athens. 256.278.6436, http://www.spiritofathens.com.
National Shrimp Festival, Oct. 13-16, Gulf Shores
Alabama's beaches will alive with live music and fresh seafood for the 40th Annual National Shrimp Festival in Gulf Shores. More than 300 vendors showcase their fine arts and crafts, two musical stages feature major national recording artists as well as local favorites. The four-day event attracts more than 300,000 visitors. 251.968.4237, http://www.nationalshrimpfestival.com.
Evergreen Sausage Festival, Oct. 9, Evergreen
Enjoy locally produced sausage, live entertainment, a pet parade and children's activities.251.578.1707.
Alabama Pecan Festival, Nov. 4, Tillman's Corner
The festival is family oriented with plenty of food featuring pecans, a free grand stand show of country & western music and a Sunday gospel show. 251.401.5555, http://www.alabamapecanfestival.com.
67th Annual National Peanut Festival, Nov. 4-13, Dothan
The tourism event celebrates the local peanut crop. Live concerts at the amphitheatre, livestock exhibits, competitions, recipe contests, carnival rides, and fun are among the fun activities at the festival. 334.793.4323, http://www.nationalpeanutfestival.com.
Christmas on the River Barbeque Cook-Off, Dec. 1-4, Demopolis
The weeklong festival features Christmas in the Canebrake, the Alabama State Championship BBQ Cook-off, Alabama By-Choir Concert, day parade, Jingle Bell run, nautical parade with fireworks and lighting of the Love Light Christmas tree.
For information on these and more food festivals listed in the 2011 Alabama Calendar of Events log on to http://www.alabama.travel.
###