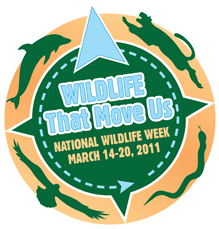 Wildlife Week Celebrates All Things Wild
(Vocus/PRWEB) March 07, 2011
Celebrate National Wildlife Week March 14-20
Be Moved by the Animals Around You
National Wildlife Federation Event Gets Families Outside to Explore Nature
"Animals that Move Us" is the theme this year for National Wildlife Week, March 14-20, so mark your calendar and get ready to move and groove with all things wild. During this unique event, kids and parents will be making time to get outside and explore the natural world around them with the help of outdoor games, crafts, and activities provided by National Wildlife Federation.
Each day of the week will feature a specific group of animals based on their mode of locomotion: flying, digging/slithering, walking/running, hopping/jumping, and swimming. The 45 animals highlighted will include those you can find in your backyard, those in need of help, and those critical to major eco-systems.
Trading cards will be available for each of the 45 species. Kids can have fun matching groups of animals based on common features they share. A different poster will be available each day of the week, along with lesson plans for teachers.
Kids will be able to learn about different species of wildlife and then participate in a habitat project or other conservation service project. The web site will include a number of starter ideas for community service projects. These projects can begin during National Wildlife Week and be completed for Youth Service Day in April.
National Wildlife Week, which has been celebrated for 73 years, is National Wildlife Federation's oldest program. NWF is observing the organization's 75th anniversary this year. The National Wildlife Week web site offers resources for parents, kids, teens and educators to make learning about and spending time outdoors more fun than ever. National Wildlife Week is part of NWF's BE OUT THERE campaign, designed to get kids outside more often so they can learn why it's called the great outdoors.
Download trading cards, posters, games, crafts, wild activities and lesson plans at: http://www.nwf.org/nationalwildlifeweek (more cool stuff added each day of Wildlife Week)
Media Contact: Mary Burnette, 703-438-6097
###