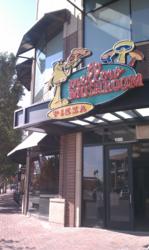 "We are thrilled to bring a new level of excitement to Mill Avenue.
Tempe, Arizona (Vocus/PRWEB) March 08, 2011
Mellow Mushroom Pizza Bakers will be baking their first batch of stone baked pizza on Monday, March 14, 2011, on the southwest corner of 7th and Mill at 740 S. Mill Avenue #D100, Tempe, AZ 85281.
The owners explained why they were excited to bring Mellow Mushroom to Tempe. "We are thrilled to bring a new level of excitement to Mill Avenue, along with Arizona State University faculty and students. We want to provide this Community with more than just great pizza and beer. We are an experience providing colorful eclectic art, hip music and excellent food."
Mellow Mushroom features a creative menu with a wide variety of pizzas, hoagies, salads, calzones, appetizers, vegan options and a gluten-free crust is also available. You can enjoy a creative atmosphere with unique artwork and a full bar featuring a wide variety of craft beers.
This Mellow will have one of the largest collections of graffiti artwork in Arizona. The graffiti art collage consists of 44 original pieces and was created by 12 artists. This Mellow will feature a separate retail area where customers can checkout and purchase Mellow Gear.
The Mellow Mushroom will operate 7 days a week Sunday-Wednesday, 10:30 a.m. to 2:00 a.m. and Thursday-Saturday, 10:30 am to 4:00 a.m. This will be Arizona's second Mellow Mushroom Pizza Bakers, the first being in Phoenix.
For 36 years Mellow Mushroom has been serving up fresh stone baked pizza's to-order in an eclectic, art filled environment. Each Mellow is locally-owned with a unique feel, and focused around great customer service and quality.
Media Contact:
Tammy Lucich
(404)-505-2801
tammy(at)mellowmushroom(dot)com
###