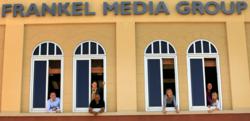 "Producing great work that delivers tangible results for our clients is at the heart of everything we do. To be nominated by our colleagues from all across Florida for these awards is indeed icing on the cake."
Gainesville, FL (Vocus/PRWEB) March 16, 2011
Frankel Media Group earned eight ADDY® Awards including two "Best of Show" awards by the Advertising Federation of Gainesville at the ADDY® Awards Banquet on Feb. 18. The ADDY® Awards honor the best in advertising and cultivate the highest creative standards in the industry, according to the Advertising Federation.
Frankel Media Group beat its award winning record set in 2010, which included six ADDY® Awards, with eight awards this year including two out of the three professional "Best of Show" Awards in the Print and Interactive categories.
"We are honored to have received two "Best of Show" awards and I am beyond proud of the quality of work for which our team was recognized," said Ryan Frankel, President and CEO of Frankel Media Group. "Producing great work that delivers tangible results for our clients is at the heart of everything we do. To be nominated by our colleagues from all across Florida for these awards is indeed icing on the cake."
In addition to the two "Best of Show" awards, the agency won two Gold ADDY® awards for the Saboré website and Town & Country Veterinarians "Too Long" ad and four Silver ADDY® Awards for the Saboré business card, the Saboré logo, design of the Fall 2010 issue of The Village Journal at Haile Plantation and Sebastian Ferrero Foundation's "I'm Committed" video.
Frankel Media Group (http://www.frankelmedia.com) is a leading full-service marketing communications firm. The firm's reputation is built on its deep commitment to client service, creativity and collaboration. FMG has experienced significant growth since its inception in 2005 and has earned 23 ADDY® awards in the past three years.
The American Advertising Federation (AAF), headquartered in Washington, D.C., acts as the "Unifying Voice for Advertising." The ADDY® Awards is an international competition recognizing outstanding work in the advertising industry. The ADDY® Awards honor companies and individuals whose talents exceed high standards and whose excellent work serves as a benchmark for the industry.
###