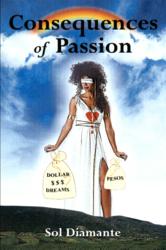 Thornton, CO (Vocus/PRWEB) March 09, 2011
Consequence of Passion, a new book by Sol Diamante, has been released by RoseDog Books.
Mexico's chaotic political revolution turns the country into a place of turmoil and economic struggle. Angelica's father, Miguel, is an ambitious man on the verge of losing everything. His strong desire to survive compels him to take a chance in America, the land of opportunity. With Miguel gone, Angelica's mother, Caridad, gains responsibility of the household. Their lives are then changed forever when Adam, Angelica's brother, is in an accident, causing her brother Eric to become rebellious and indifferent. After Miguel and Caridad's deaths, Angelica is left with four younger siblings, including a crippled sister and a fugitive brother. While strengthened by her family's hardships, Angelica is not satisfied with simply surviving, and she wills herself across the border to try to build a better future. Despite the uncertainties before her, Angelica desperately seeks a change, no matter what the consequences.
Sol Diamante was born in Santa Fe, New Mexico and graduated from St. Michael's High School. She then moved to Colorado to further her education and still resides there today. Because of her love for the arts,Diamante took an interest in acting and did her first theatrical comedy in Spanish called "El Muerto Tendido" (A dead body lying at rest). She continued to act and did another play called "The Pesadilla" (The nightmare). To further her devotion to writing, Diamante took classes at the University of Denver. She dedicates this book to her beloved mother born in Mexico.
Consequences of Passion is a 58-page paperback with a retail price of $10.00. The ISBN is 978-1-4349-9999-3. RoseDog Books of Pittsburgh, Pennsylvania published it. For more information or to request a review copy, please visit our virtual pressroom at http://www.rosedog.com/pressroom or our online bookstore at http://www.rosedogbookstore.com
###