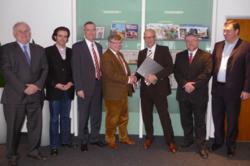 - to produce our contents out of a high performance database across all platforms." - Andreas Müller, Managing Director.
Springville, UT (Vocus/PRWEB) March 09, 2011
Digital Technology International (DTI™) has today announced that the Zeitungsverlag Aachen GmbH publishing group (ZVA GmbH) will produce its daily newspapers Aachener Zeitung and Aachener Nachrichten as well as its weekly papers Super Sonntag and Super Mittwoch with DTI ContentPublisher.
Both daily newspapers are published in 17 local editions with a circulation of around 140,000 in the Aachen-Düren-Heinsberg (Nordrhein-Westfalen) region of Germany. The free weekly papers are published in the same distribution area with a total circulation of 750,000.
Approximately 150 users will work with the DTI system to create the print and (partially) the online products.
"With DTI we will be able to produce our contents out of a high performance database across all platforms. DTI was able to incorporate proven standard components from Adobe into the workflows of a modern media house. With this, we're optimally positioned for the future," ZVA's Managing Director Andreas Müller explained. "With DTI we will, if needed - by operating the system in a Cloud - increase our productivity even more.
"Furthermore, from the cooperation in the project so far, we are convinced we have chosen a competent, flexible and customer-oriented partner that has developed the right tools for our industry."
Ernst-J. Komberg, managing director of DTI GmbH stated, "We are delighted to have been awarded this prestigious contract. It further strengthens our position as the trusted technology partner for the many successful newspapers in and around Germany.
"DTI ContentPublisher provides unlimited sharing of information and digital assets throughout an entire enterprise - regardless of platform. It eliminates duplication, and by removing newsroom walls can build a completely collaborative and efficient publishing environment. This is exactly what Zeitungsverlag Aachen wishes to achieve."
DTI ContentPublisher enables a modern journalist to create everything they might need and includes automated pagination and digital publishing to Web, mobile and SMS. It manages the seamless flow of content from a full spectrum of news sources, including remote writers and citizen journalists, to any platform.
Based on InterSystems Corporation's Caché, the world's fastest multidimensional object database and Adobe® InDesign, DTI ContentPublisher has unbelievable performance, is highly scalable, and is able to easily manage the data volumes of today - and of tomorrow.
About Digital Technology International: Digital Technology International (DTI™) delivers audience-centric Web, print, and mobile solutions to publishers around the world. The company's unique technology and professional services help media organizations engage audiences by delivering targeted news, ads and entertainment. Whether onsite or via DTI Cloud (Software as a Service), DTI software helps customers generate new revenue, reduce costs, manage resources, and make more informed business decisions. Its solutions are successfully implemented at more than 2,000 customer sites around the globe with more than 200 publishing in DTI Cloud. DTI is headquartered near Salt Lake City, with offices in Australia, Brazil, Canada, Denmark, Finland, France, Germany, Norway, Panama, Sweden, the United Kingdom and USA. DTI may be found online at http://www.dtint.com
###