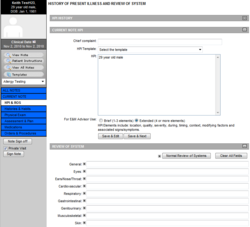 This event serves as a positive indicator for the monetary rewards that are to come to practices that are similarly dedicated to the successful adoption and implementation of certified EHRs

Dr. Lawrence Gordon, CEO, Waiting Room Solutions
Goshen, NY (Vocus/PRWEB) March 07, 2011
Waiting Room Solutions® (WRS)(http://www.waitingroomsolutions.com), a leading web-based EHR and PM provider, announced today that their client, Jones Family Care, LLC of Jones, OK, received their 1st ARRA incentive check. On Wednesday, March 2, 2011 the Oklahoma Health Care Authority issued payment of $ 21,000 to Robert Stramski, ARNP, at Jones Family Care, LLC for their successful adoption and implementation of a certified EHR. The incentive payment is federally funded under the Health Information Technology for Economic and Clinical Health (HITECH) Act provisions of the American Recovery and Reinvestment Act of 2009.
Jones Family Care, LLC worked closely with OFMQHIT, Oklahoma's HIT Regional Extension Center, to apply for the incentive program and ensure the appropriate steps were taken in order to receive the Medicaid payments. OFMQHIT, through the Oklahoma Foundation for Medical Quality, provides health information technology consulting to Oklahoma providers adopting and implementing EHRs. The clinic was able to demonstrate its long-term success with 2011 Waiting Room Solutions Web Based Electronic Health Record (EHR) and Practice Management System (PM) V4.0 to the Centers for Medicare and Medicaid Services (CMS) with support and consulting from OFMQ.
"We are pleased to support Jones Family Care on their EHR journey, and we are excited about this milestone event," said Jonathan Kolarik, OFMQ Director of Health Information Technology. "We hope providers everywhere will recognize that dedicated efforts toward meaningful use of EHRs will pay off and the Regional Extension Center program is here to help in the process."
"Jones Family Care has demonstrated its success in implementing health information technology that improves both practice efficiency and patient care, and we are glad that our system has provided the adequate tools for this achievement," said Dr. Lawrence Gordon, Founder and CEO of Waiting Room Solutions. "This event serves as a positive indicator for the monetary rewards that are to come to practices that are similarly dedicated to the successful adoption and implementation of certified EHRs."
The Jones Family Care is a small, Nurse Practitioner-owned clinic in Oklahoma who is dedicated to quality care.
About Waiting Room Solutions
Waiting Room Solutions is the leading web-based provider of fully integrated EMR and Practice Management software solutions for over 32 medical specialties. Waiting Room Solutions seamlessly integrates all of the clinical and business functions required for healthcare providers, including: Electronic Medical Records, Revenue Cycle Management, Personal Health Records, electronic prescribing (ERx), scheduling, website creation and content management, messaging, fax, order tracking, and billing -- all at an affordable price. 2011 Waiting Room Solutions Web Based EHR and Practice Management System V4.0 is 2011/2012 compliant and was certified as a Complete EHR on January 11, 2011 by CCHIT. The 2011/2012 criteria support the Stage 1 meaningful use measures required to qualify eligible providers and hospitals for funding under the American Recovery and Reinvestment Act (ARRA). The system is also a CCHIT Certified® 2011 Ambulatory EHR. Waiting Room Solutions is a Surescripts® Solution Provider for its web-based Electronic Medical Record (EMR) and Practice Management System (PM) V4.0. The EMR and PM V4.0 is Surescripts certified for prescription routing messaging. It has been designed and built by successful medical professionals, who leveraged their expertise to help other healthcare providers with similar issues. Waiting Room Solutions continues to be recognized for its cutting edge technology.
More information on Waiting Room Solutions can be found at: http://www.WaitingRoomSolutions.com or by calling 1-866-WRS-4EMR.
Inquiries can be sent to:
sales(at)waitingroomsolutions(dot)com
866-977-4367
###