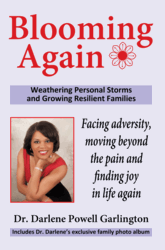 Garlington tells how she began rebuilding her life, brick by brick, while continuing to fight for the freedom of her husband.
New York (Vocus/PRWEB) March 09, 2011
In Blooming Again: Weathering Personal Storms and Growing Resilient Families (published by AuthorHouse) celebrated psychologist and popular author Dr. Darlene Powell Garlington once again turns a critical eye to societal and spiritual ills. But this time she's turning that keen gaze inwardly.
Part memoir, part self-help guide, Blooming Again is both a candid retelling of Garlington's darkest hour and a how-to for readers looking to move beyond their own challenges and feelings of devastation.
When Garlington's husband, Dr. Ernest Garlington, is unjustly arrested, tried and convicted of conspiracy to commit murder against her ex-husband and sentenced to 33 years, Garlington's life is turned upside down. Crawling out of the darkness of anxiety and depression, Garlington tells how she began rebuilding her life, brick by brick, while continuing to fight for her husband's innocence and freedom. With intimate storytelling, Garlington inspires readers by sharing how she and her family not only persevered during their devastation but thrived.
Using this – her own personal trauma – along with provocative self-inventory and private practice experience, Garlington takes readers through the process of building individual, family and community resiliency. Written with sensitivity and practicality, Blooming Again addresses the mind, body and spirit interconnectedness and uses an integrative health approach that challenges the reader to explore the sometimes tough, sometimes unspoken questions of the meaning of life during times of pain and suffering.
Proven principles, skills and techniques will help readers recover, heal and thrive after a crisis through everyday interactions that will help to express positive feelings, communicate more effectively, resolve conflicts and rely on God.
About the Author
Dr. Darlene Powell Garlington is a licensed clinical psychologist, certified school psychologist and media psychologist who specializes in providing services for military families. She is the renowned author of eight books published by Simon & Schuster, William Morrow, John Wiley and self-published on a range of topics including parenting, family dynamics, multiculturalism, psychology and spirituality, co-parenting, male-female relationships and diversity. She holds a master's degree in applied behavioral psychology and a second master's degree and Ph.D. in clinical school psychology. She is currently a senior policy analyst at Altarum Institute, consulting with the Department of Defense Centers of Excellence for Psychological Health and Traumatic Brain Injury. She has been an associate professor at Hampton University in Hampton, Va., and an adjunct professor at Wesleyan University in Middletown, Conn. She has been in private practice for more than 20 years.
For more information, visit http://www.DrDarleneandAssociates.com.
AuthorHouse is the leading provider of self- publishing, marketing, and bookselling services for authors around the globe. For more information, visit http://www.authorhouse.com.
###