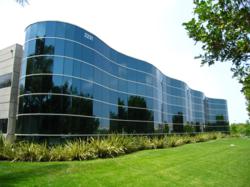 "This transaction is a win for both Buzztime and the Carlsbad commercial real estate market" - Louis Tomaselli, Managing Partner of 360 Commercial Partners
Irvine and Carlsbad, CA (Vocus/PRWEB) March 09, 2011
Voit Real Estate Services and 360 Commercial Partners, both commercial real estate brokerages based in Orange County, California, today announced the completion of a large office lease transaction in Carlsbad – 28,458 square feet within a 40,000-square foot, two-story office building in Carlsbad Research Center.
Seth Davenport of Voit Real Estate Services in Anaheim and Louis Tomaselli of 360 Commercial Partners in Irvine represented the lessee, NTN Buzztime, Inc., (NYSE Amex: NTN) a leading bar and restaurant, social entertainment and marketing platform. Joe Anderson of Cassidy Turley BRE Commercial in Carlsbad represented the landlord, Bill Beckman of Solana Beach.
"This transaction is a win for both Buzztime and the Carlsbad commercial real estate market," said Louis Tomaselli, Managing Partner of 360 Commercial Partners. "By leveraging current market conditions, our client, Buzztime, will maximize the return on their office lease investment by moving to a higher profile location within Carlsbad and will realize operational efficiencies with an optimized space plan. At the same time, Carlsbad remains the home of this leading bar and restaurant social entertainment and integrated marketing services firm."
Buzztime, Inc. will relocate its U.S. corporate headquarters from its current location, where it occupied a total of 42,000 squarefeet of Class-B office space, to 2231 Rutherford Road in the Carlsbad Courtyard complex of the Carlsbad Research Center. The company's new Class-A offices provide nearly 28,000 squarefeet for the employees working in Carlsbad.
"With this move, NTN Buzztime will occupy an impressive office building in keeping with its innovative, leading-edge image, and also will realize cost and operational efficiencies," said Seth Davenport, Senior Vice President, Voit Real Estate Services. "The transaction represents the continued appeal of the Carlsbad/North San Diego market for growing businesses of all types."
About Buzztime
NTN Buzztime, Inc. (NYSE Amex: NTN) is a leading bar and restaurant social entertainment and integrated marketing platform. Trusted by approximately 3,900 and restaurants in North America since 1985, Buzztime integrates trivia, card and sports games with in- and out-of-venue messaging and communication tools. With over 1,500,000 registered consumers and more than 50,000,000 games played each year, Buzztime players spread the word and invite friends and family to their favorite Buzztime location to enjoy an evening of fun and competition. With Buzztime entertainment and marketing solutions, bars and restaurants attract new customers, turn casual visitors into regulars, and give guests a reason to stay longer. For the most up-to-date information on NTN Buzztime, please visit http://www.buzztime.com.
About 360 Commercial Partners
360 Commercial Partners (http://www.360CommercialRE.com) is a full-service commercial real estate brokerage focused on providing expert advisory counsel and exceptional service to clients in the industrial, office and development sectors. The firm is headquartered in Irvine.
About Voit Real Estate Services
Voit Real Estate Services provides strategic commercial real estate solutions, including property management, investment advisory, financial analysis, market research, asset management, tenant advisory and brokerage services. http://www.voitco.com.
Forward-looking Statements
This release contains forward-looking statements which reflect current views of future events and operations, including but not limited to statements about innovation, image, cost and operational efficiency, market position and number of restaurants and games played. These statements are based on current expectations and assumptions that are subject to risks and uncertainties that could cause actual results to differ materially. These risks and uncertainties include the risks of adverse economic conditions, failure of customer and/or player demand, lower market acceptance or appeal of both existing and new products, termination of partnership and contractual relationships, the impact of competitive products and the inability to realize cost or operational savings. Please see NTN Buzztime, Inc.'s recent filings with the Securities and Exchange Commission for information about these and other risks that may affect the Company. All forward-looking statements included in this release are based on information available to us on the date hereof. These statements speak only as of the date hereof, and NTN Buzztime, Inc. does not undertake to publicly update or revise any of its forward-looking statements, even if experience or future changes show that the indicated results or events will not be realized.
###