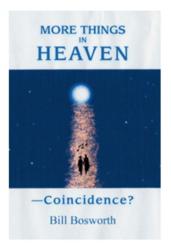 More Things In Heaven is more spiritual travelogue than exposé on Eastern religious thought and practices.
Santa Cruz, CA (PRWEB) March 09, 2011
William Shakespeare truly had a way with putting words into other people's mouths. When Hamlet was consoling his dear friend who couldn't quite handle the idea of ghosts and the supernatural, he simply said, "There are more things in heaven and earth, Horatio, than are dreamt of in thy philosophy." In More Things in Heaven—Coincidence? (published by iUniverse), author Bill Bosworth has lived his life in awe-inspiring wonderment—not fear—of all things seen or unseen, familiar or mystical, audible or soundless.
More Things In Heaven is more spiritual travelogue than exposé on Eastern religious thought and practices. Distilled from a lifetime of spiritual experiences that included four trips to India, Bosworth's book is a first-person exploration of the teachings, writings, and practices of many great spiritual teachers of the past century: Swami Nitya Yati, International Spiritual Leader; the 13-year-old Guru Maharaji of the 1970s; Muktananda, divine energy transmitter; Rajneesh a.k.a. Osho, the master storyteller; and Sathya Sai Baba, present-day Avatar (complete incarnation of divinity). Bosworth never really intended to follow a non-traditional or non-Western religious road. In fact, prior to his service during World War II, he had made up his mind while in college to become a Christian minister. But after witnessing Christians on both sides of the battle lines killing each other with gusto, both convinced that God was on their side, and all in the name of Jesus, he became disenchanted with the 'Gospels according to war' just as Bertrand Russell had lamented about World War I.
With a 180-degree turn, he took classes on the Bhagavad Gita, which promotes freeing oneself of both I and mine in an effort to attain peace. From there he took Rajneesh's edict to heart, "Truth can be caught but cannot be taught." That said, his book is a thoughtful, enlightening, and entertaining teaching instrument full of parables and reflections; a book where one can find as much between the lines as in the lines (or one-liners like: "Well, Tom, what do you want, earth burial or cremation?" On his deathbed, the trembling old joker looked up and responded, "Surprise me!" and then died.) What a critic has said about More Things in Heaven:
Writing sincerely about one's spiritual beliefs and experiences without appearing strange, evangelical, or self-righteous is extremely difficult, and Bosworth is to be commended for avoiding these pitfalls. That he was humbled and transformed by his decades of genuine searching is patently obvious.
-- Patty Sutherland, ForeWard Clarion Reviews
About the Author
William G. (Bill) Bosworth refers to himself as a "bundle of non-egocentric energy that is lovingly blended with the wind, the sand, and the stars." His 87-year existence on planet Earth serves as a testament of transcendence that has included 50 years of intensive study with the great spiritual teachers of India. A self-pronounced "song and dance man" who has appeared in several musicals, he loves to sing and ballroom dance. Bosworth earned a Bachelor of Arts degree from Oberlin College in 1948, raised five wonderful children, shared a sleeping bag with a baby armadillo during WWII, and 'day-lighted' as probation officer. His avocations include poetry, political cartooning, and painting. More Things in Heaven is Bosworth's first book. Let's hope it's not his last.
# # #