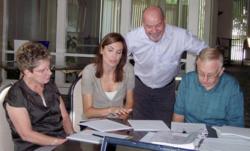 Be pleasantly persistent.
Encino, CA (Vocus/PRWEB) March 09, 2011
In today's economy, it is becoming harder and harder to get one-on-one time with new clients. Employees are stretched thin, performing the jobs of 2-3 people. There isn't much time for them to interact in any medium besides the phone or email.
However, business owners understand the importance of live communication with clients, as it is the best means to convince others of their business' potential.
Bob Marshall, President of Marshall Face2Face, has many years of experience in landing crucial meetings with busy people. Here are a few of his tips:
1) Network. Attend local business networking events and meet peers. Not only will you possibly run into that client you've been hoping to meet, but you'll meet a few other potential clients along the way. Networking is not limited to organized events. Make new contacts on the plane, at sporting events, weddings, etc.
2) Be pleasantly persistent. Let's face it. People are busy. Sometimes they forget about your services because they are so busy with their own duties. Don't be shy – make the occasional phone call, send an email update, or mail a brochure. The more they hear about a business, the more they will remember it when the time comes for them to require new services.
3) Use technology. The internet provides a wealth of information. Use search engines to do research on target companies and find out who the key contacts are. Connect with those people on LinkedIn, Facebook, and Twitter, and make sure to send out regular status updates about your business. Down the road when they need help, these contacts will know where to find you.
4) Enlist the help of a professional. An experienced appointment setter can get to know your needs and wants and go after your dream clients. All that's left to do is actually attend the meeting and present a plan of action to the major decision maker.
Marshall Face2Face acts as a corporate match-maker and lead generator for clients that may not have the time or resources to research prospects, develop relationships, and ultimately secure appointments with major decision makers.
# # #