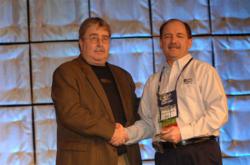 It was a surprise to be recognized as 'Vendor of the Year' for RFMA, said Deal.
Saginaw, Michigan (Vocus/PRWEB) March 09, 2011
Duro-Last® Roofing, Inc., was recently recognized with two awards during the Restaurant Facility Management Association's (RFMA) National Conference, February 6 – 8, 2011, in Long Beach, California.
John Deal, National Sales Manager for Duro-Last, was recognized by RFMA as the "Vendor of the Year" for 2010. John has been a member of RFMA and its Education Committee since its inception in 2004. John currently holds the title of Co-Chairman of the Education Committee and sits on the Magazine Editorial Board for RFMA's new Facilitator magazine.
"It was a surprise to be recognized as 'Vendor of the Year' for RFMA, said Deal. "I enjoy being involved in such a dynamic organization where I am able to network and build relationships with facility managers and vendors throughout the restaurant industry. I would like to thank the members of the Education Committee for their hard work and my co-chair, Curt Sawan of Darden Restaurants, for all of his guidance and cooperation. A special thanks to Debi Kensell, Education Manager for RFMA. She does an amazing job and together we were able to meet all the goals of the education committee this year," concluded Deal.
Duro-Last was also recognized by Darden Restaurants as "Vendor of the Year" for 2010. Over 8 million square feet of Duro-Last roofing membrane have been installed on 1,138 Darden restaurants since 1987.
"It is an honor to be recognized by Darden as their 'Vendor of the Year,' said Deal. "We value our relationship with everyone at Darden and enjoy working with them to service their customers."
Darden's team of 35 facility managers recently visited Duro-Last's headquarters in Saginaw, Michigan, where they were given a tour of the manufacturing facilities and met with management to discuss the benefits of the Duro-Last roofing system.
About RFMA
Formed in 2004, the Restaurant Facility Management Association's (RFMA) mission is to advance industry awareness of restaurant facility management, while promoting professional and ethical standards to serve the customer with added value. Its core purpose is to promote the advancement of the restaurant facility management professional.
About Darden
Darden Restaurants, Inc., the world's largest full-service restaurant company, owns and operated 1,800 restaurants that generate more than $7 billion in annual sales. Headquartered in Orlando, and employing approximately 180,000 people, Darden is recognized for a culture that rewards caring for and responding to people. Our restaurant brands – Red Lobster, Olive Garden, LongHorn Steakhouse, The Capital Grille, Bahama Breeze and Seasons 52 – reflect the rich diversity of those who dine with us. Our brands are built on deep insights into what our guests want. For more information, please visit http://www.darden.com.
About Duro-Last Roofing, Inc.
With corporate headquarters and a manufacturing facility in Saginaw, Michigan and other locations in Grants Pass, Oregon; Jackson, Mississippi; and Sigourney, Iowa, Duro-Last Roofing, Inc. is the manufacturer of the "World's Best Roof"®. Since 1978, Duro-Last has produced a custom-fabricated, thermoplastic single-ply roofing system that is ideal for any flat or low-sloped commercial or industrial building. Energy-efficient and extremely durable, the Duro-Last roofing system is also leak-proof, virtually maintenance-free and resistant to chemicals, fire, punctures, and high winds. In addition to the Duro-Last roofing system, the company's brands include the Duro-Last Cool Zone®, the Duro-Shield® metal retrofit, Duro-Last Designer Series roofing systems, and Duro-Last Fleeceback™ System. For more information, contact Fred Sitter at 800-248-0280 or visit http://www.duro-last.com.
###