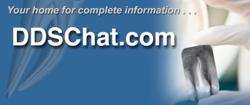 The new features provide a great learning experience
New York, NY (Vocus/PRWEB) March 11, 2011
The founders of endomailmessageboard.com are pleased to announce its new name and web address: http://www.ddschat.com. This new name better encompasses the goal of the site which is to provide dentists with a message board that allows open conversation and open dialogue amongst peers. This interactive online forum is continually focused on excellence in dental education. For those who are more comfortable using http://www.endomailmessageboard.com, the website will still be available through that address.
In order to better suit the needs of current and present members, DDS Chat has incorporated new items on the website. New features that can be found on DDS Chat include a new discussion forum "CBCT in Endodontics". This forum will share unique and exciting videos utilizing modern and effective usage of CBCT technology. For more information, contact Victoria Reina, Site Administrator.
About ddschat.com:
Created by a group of practicing Endodontists, this website was created to share examples of clinical excellence, logical alternative ways to practice dentistry, tips which make dentistry more affordable, and safe & efficient techniques to enhance your practice. Information found here is unique and cannot be found on any other website.
# # #