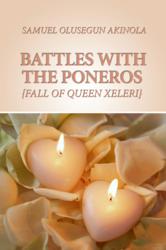 Pittsburgh, PA (Vocus/PRWEB) March 10, 2011
Battles with the Poneros (Fall of Queen Xeleri), a new book by Samuel Olusegun Akinola, has been released by Red Lead Press.
Sparta, the powerful king, falls out of favor and the people rise against him. Lord Demetrius betrays the king for his Roman ally. Before her death, Queen Damaris manages to escape their two sons through tempestuous seas to flee them to Ithaca. Alas, the tempestuous sea separates the princes.
Sparta falls to the curse of the murdered king's wizard and the raiding of the Warriors of Darkness sent by Queen Xeleri, with none to save them. Homer grew up in the wild until he chanced with the Holy One, and a Sword of Fire was given him. His love for the traitor's daughter brought him and his mystical friends back to Sparta as prisoners. Valour calls, love and duty set Homer and his powerful warriors to dice with evil Xeleri and rescue the princess and save Sparta. With the Sword of Fire and mystical powers, these heroes of Sparta set out to face evil, while Demetrius has his own diabolic plan for them.
Samuel Olusegun Akinola is a young prolific writer, novelist, and poet, born and bred in the western part of Nigeria in West Africa. He is greatly talented in literature works. He enjoins classical stories, thrilling gothic/mystical stories (African and non-African), and likewise has enough flare for contemporary stories. He has written fifteen books within six years of his career, including four epic, classical war adventure novels, an African prose, and a book of ten African stories, a book of sixty poems, four Christian literatures, a book of hymns, and three kids' religion adventure stories. His insight in mystical world and mythology is divine; he is a young scholar and passionate reader.
Battles With The Poneros (Fall of Queen Xeleri) is a 132-page paperback with a retail price of $17.00. The ISBN is 978-1-4349-6514-1. Red Lead Press of Pittsburgh, Pennsylvania published it. For more information or to request a review copy, please visit our online bookstore at http://www.redleadbooks.com
# # #