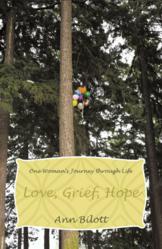 "At some time, we all will face love, loss and grief," says Bilott. "But we have to look at what's in front of us, and not get lost in 'the meantime.'"
Escondido, CA (Vocus/PRWEB) March 10, 2011
A new book aims to give readers the courage to express grief and overcome loss in order to become more grateful and open to change.
In her debut book Love, Grief, Hope, author Ann Bilott brings readers a collection of poetry filled with honest emotion and personal challenges. Aimed at providing readers a tool for reflection, the book explores the basis of three common emotions, highlighting their importance and the inevitability of expression during times of grief.
"At some time, we all will face love, loss and grief," says Bilott. "But we have to look at what's in front of us, and not get lost in 'the meantime.'"
Emphasizing that while nothing can prepare us for handling death or loss, Love, Grief, Hope introduces the notion that daily reflection on the past and an understanding of emotion will lead to both mental and spiritual peace. Honest and inspirational, readers are brought to the reality of life's emotional rollercoaster in this candid, personal read.
"I wrote to ease my sorrow and discovered that hope is cumulative," says Bilott. "Each of us has to go through the process in our own way."
About the author
A certified bilingual teacher with a passion for cultural diversity, Ann Bilott is a former teacher at all levels, having spent 20 years teaching first grade. She currently works as an educational consultant at a business she started in 2007.
Bilott holds a bachelor's degree in education from St. Xavier College in Chicago and a master's degree in curriculum and instruction from College of St. Thomas in Minneapolis. She is a member of the California Association of Bilingual Education, Californians Together, and the Association for Supervision and Curriculum. This is her first book.
**FOR IMMEDIATE RELEASE**
EDITORS: For review copies or interview requests, contact:
Jessica Kiefer
Tel: 317.602.7137
Fax: 317.536.3775
Email: jkiefer(at)bohlsenpr(dot)com
(When requesting a review copy, please provide a street address.)
###