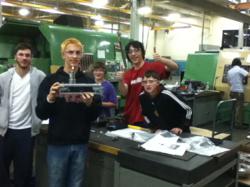 Chuck Gehrisch, president of Roll-Kraft said the goal of the robobots competition is "to change the perception of manufacturing by showing students, parents, and schools what modern manufacturing can offer. "
Mentor, Oh. (Vocus/PRWEB) March 10, 2011
Roll-Kraft and the Alliance for Working Together, a group of Ohio-based manufacturers and educators, are the subjects of a feature article on FFJournal.net, a web site that emphasizes fabricating and forming technology.
The article highlights Roll-Kraft's latest efforts to spur interest among high school students to consider a career in manufacturing. The Robobots competition allows the students to design and build their own working robots with help from the Roll-Kraft staff. The students use equipment such as CNC turning machines, turning lathes, EDM machines, machining centers, grinders, and CAD/CAM systems.
The competition pits the robots built by various groups of students against one another in a local event. The winner will advance to higher levels of the competition.
According to Roll-Kraft's president, Chuck Gehrisch, the goal of the competition is "to change the perception of manufacturing by showing students, parents, and schools what modern manufacturing can offer. "
To read the full article on the FFJournal.net web site, visit: [http://www.ffjournal.net/common/articlesearchdetail.asp?currentpage=9938. __title__ ]
About Roll-Kraft
Roll-Kraft is a recognized leader in the tube & pipe and roll forming industry, supplying manufacturers with tooling to produce their specific products. The company has been in business since 1963 and offers custom-designed tooling to meet the wide range of individual customer specifications.
Roll-Kraft has its headquarters in Mentor, Ohio, and maintains other facilities in Frankfurt, Illinois (Roll-Kraft Northern), and Ontario Canada (Roll-Kraft Ltd.). The company phone number is (888) 953-9400 or (440) 205-3100, and the fax number is (440) 205-3110. Please also visit the web site at http://www.roll-kraft.com. For easy and immediate contact with Roll-Kraft that transcends time zones and working hours, the website features Dr. Resolve.. Simply complete and submit an on-line form and Roll-Kraft will respond.
###